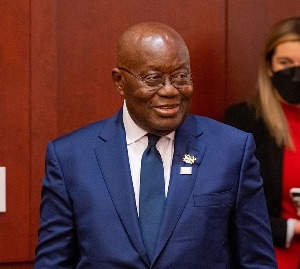 President Nana Addo Dankwa Akufo-Addo has lauded his government for the work done in the road sector.
Speaking on the back of the government being accused of borrowing and spending recklessly which has led to economic turmoil, Akufo-Addo contented his administration did not mismanage funds but a chunk of monies borrowed was used for the construction of roads.
"Mr Speaker, I am proud of the amount of work that we have done, especially in the road sector. Roads constitute the largest number of questions asked in this House by Members of Parliament; a large amount of the monies we borrow are for road construction. Shall we dare stop constructing roads?"
Delivering the State of the Nation Address in Parliament on March 8, 2023, the president boasted that his government has delivered its promise of good road infrastructure which has been the major concern for Ghanaians.
"Mr Speaker, I would like to state categorically that this Government has built more roads than any government in the history of the 4th Republic, and Mr. Speaker, the details of all these roads are attached in the annex to this Message. I have done so because, last year, when I made a similar pronouncement, I was met with howls and gasps of incredulity from the Minority benches, and so I thought it appropriate, this time, to present it as an annex to the Statement, which will be part of Hansard," Akufo-Addo said.
The State of the Nations Address is in accordance with Article 67 of the 1992 Constitution of Ghana, which states that the President shall deliver a message on the SONA to Parliament at the start of each session and before the dissolution of Parliament.
SONA is a constitutional obligation and yearly tradition where the Commander-In-Chief of the Ghana Armed Forces reports on the status of the country, unveils the government's agenda for the coming year, and proposes to Parliament certain legislative measures.
Article 67 of the 1992 Constitution of Ghana obliges Members of Parliament (MPs), the Speaker of Parliament and the Judiciary to receive the President's SONA.