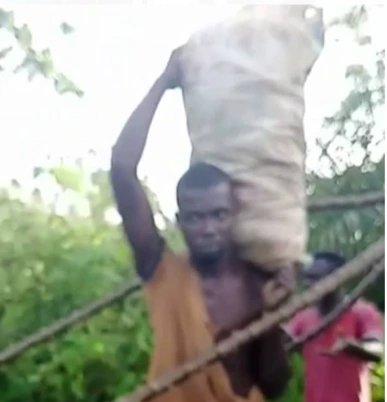 A 26-year-old notorious Cassava thief, identified as Emmanuel Korankye has been arrested at Enyan Denkyira in the Ajumako Enyan Essiam District of the Central Region.
Emmanuel was caught on someone's Cassava farm with three big sacks of Cassava, he had uprooted.
The suspect is said to be on the wanted list of some cassava farmers in the town for stealing their foodstuffs for a long time.
According to an eyewitness, Mohammed Ekow Arthur, he was going to his farm early Monday morning; 8th May 2023, when he heard someone on his friend's cassava farm. He thought it was his friend but when he got closer, he realized to his shock that it was the wanted Cassava thief, Emmanuel.
He then hid somewhere and watched the suspect as he uprooted enough Cassava that filled three big sacks and hid them somewhere.
He said, as the suspect was coming for the last bag, he got hold of him. He then called the owner of the cassava farm on the phone who organized some youth and proceeded to the farm, upon arrival they beat Emmanuel to a pulp.
The residents stripped the suspect naked, made him carry a bag of Cassava through the principal street of the Enyan Denkyira Community to Breman Essiam Police Station, and finally handed him to the Police.
The three bags of stolen Cassava has also been retrieved and presented to the police as evidence.
Police say the suspect will soon be put before the law court.