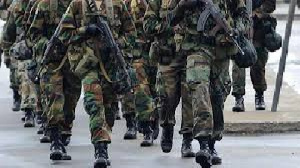 The Ghana Armed Forces has refuted allegations that its officers have been brutalising and killings civilians in Bawku in the Upper East Region.
In a statement issued on Thursday, February 2, 2023, the army said that its officers only neutralised six unknown armed men at Sabongari, a suburb of Bawku, who were engaging in sporadic shooting.
It added that one woman, a civilian, was injured during the shootout with the gunmen and was taken to a nearby hospital by the troops.
The army also explained that another shooting incident happened when gunmen attacked passengers on a bus which resulted in one civilian sustaining a gunshot wound.
"… on Wednesday, 1 February 2023, gunshots were heard around South Natinga in Bawku. A Patrol Team rushed to the general area of the shooting where a suspect Abdul Malik Haruna aged 35 from the Mamprusi tribe was arrested. He has since been handed over to the Bawku Police for further investigation.
"In a separate incident, sporadic firing was heard around Sabongari General Area. A Patrol Team dispatched to assess the situation spotted unknown med men at Gozzi-Valley side in Sabongari wearing black T-shirts with Black Hoodies.
"Troops engaged them and neutralized six (6) armed men. During the engagement, some armed men took cover in a mud house within the immediate vicinity to engage the Team. One of the armed men attempted to attack troops with a cutlass but was disarmed in the process. During the operation. a local woman found with a gunshot injury on the left hand was sent to Bawku Presbyterian Hospital by troops for treatment," parts of the statement by the military read.
It added that it has arrested some of the suspects involved in the shooting incidents and has handed them over to the police.
The army's response comes after some Ghanaians including the Member of Parliament for Bawku Central, Mahama Ayariga, accused them over the killing and abuse of some of his constituents, stating that he will go all out to ensure he gets redress.
According to a statement issued under the name of the MP, on Tuesday, January 31, 2023, there were reported gunshots heard in the Bawku township.
This, he added, was part of efforts by the military to ensure that it brought the situation under control, but things spiraled out of control, and, in the end, some six civilians are said to have been killed at the hands of the soldiers.
He said that the people who were killed were first chased and then shot, per the information available to him.
The MP added that one of the people who were killed was a little boy who had also gone into hiding, bringing the number of people killed to seven.
Read the full statement issued by the military below: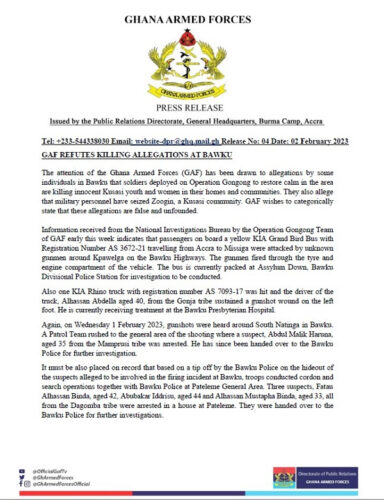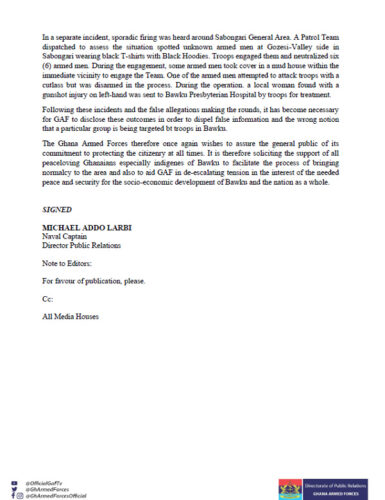 IB/SARA
Source: www.ghanaweb