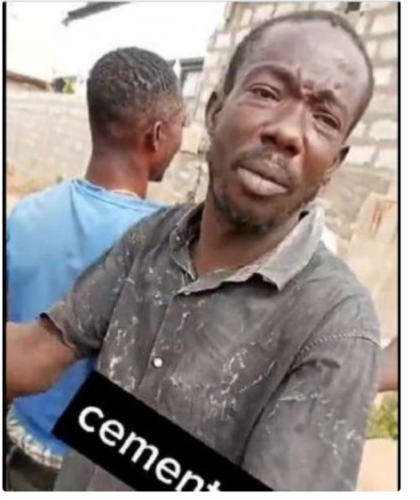 Agogo connived with his friend to steal cement
A rather bizarre story has hit the internet as two men have been filmed and beaten for stealing a bag of cement.
In the video which has been shared on social media, an unidentified man believed to have filmed the video could be heard calling on his colleagues to slap the suspected thieves as a way of punishing them for their wrongdoing.
One of the suspected thieves, named Agogo, was questioned on why he always stole something on the construction site.
Agogo, according to reports, connived with the other suspect to steal a bag of cement in a wheelbarrow.
The other suspect explained that the said cement was torn, hence, their decision to take it away from the site.
"Why do you always steal cement Agogo? Why is it that someone always asks you to steal something, Agogo? Slap him, beat him," the narrator instructed.
"Why do you steal cement here on site every time?" he asked Agogo.
Agogo, in response, said he and his accomplice stole only a bag of cement.
"Only 1," Agogo replied when asked the number of cement bags they stole.