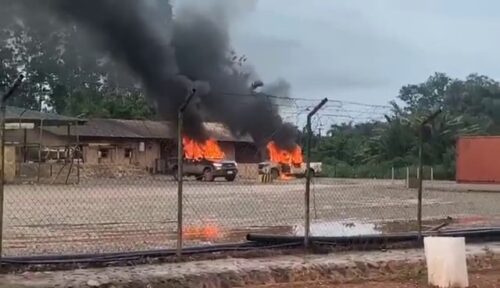 An official of Golden Star Wassa Mine at Benso in the Western Region, Gerald Osei Boakye says as many as 12 vehicles, including an ambulance, were torched on Thursday when angry illegal miners overrun the company.
One person was reported dead while four others sustained injuries.
The vehicles are light duty pick-up vehicles which were all burnt, according to Boakye, Head of Group Corporate Affairs, Golden Star, Benso who spoke on Asempa FM's Ekosii Sen programme on Friday.
The illegal miners were said to have invaded a concession of Golden Star, ostensibly to cart away mined dust to prospect for gold, an attempt which was resisted by a team of security men of the mining firm and the police.
Workers of Golden Star Wassa Mine run for their lives as illegal miners set company on fire
A number of the illegal miners were said to have sustained injuries in the ensuing confrontation.
They therefore left and reorganised themselves 'to retaliate.'
It was during their return in the evening of Thursday that they set fire to the vehicles and destroyed further property whose cost is said to run into millions of cedis.
The overwhelmed workers of the mining company had to run for dear life, chased by the rampaging illegal miners who were seen armed with machetes and other implements in videos captured on the incident.
According to Gerald Boakye, the illegal miners were also armed with guns, and although a number of them have been arrested, he could not immediately tell their number.
He hinted of a meeting with the police to review the situation.
Gerald Boakye wondered why anyone would think of destroying company property, when the same company is employing youths of the community.
Tags: Golden Star Resources Ltd