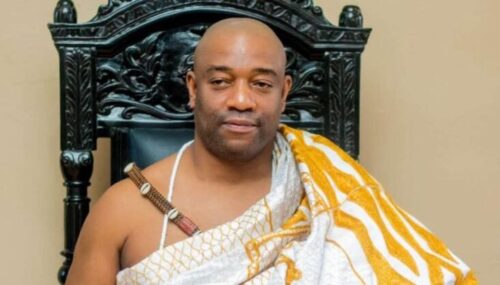 Ga Mantse Nii Teiko Tsuru II ihas revealed thatthe Ga state will decide which party or candidate wins the 2024 elections because Accra is the pivot of the election.
He told visiting flagbearer aspirant of the governing New Patriotic Party Alan Kyerematen on Monday, 13 March 2023, adding: "That is why I am speaking in English today and I want you to hear we are sad!"
"We are sad about the way we are being treated in the capital", the chiesmf stressed, explaining: "People just get up, go to a place like Agbogbloshie and start building. Why?"
"Without even consulting a traditional authority," he complained.
The Ga mantse said his people are election kingmakers who cannot be toyed with.
"We will decide this election in 2024 because Accra is the pivot of the election."
"Accra is Ghana and Ghana is Accra, don't take us for granted," he noted.
He urged Mr Kyerematen to "build a social contract with the GaDangne people and you will see the light."
"Reiterating the number of people you [Mr Kyerematen] have mentioned of Ga descent, Obetsebi-Lamptey, Ako Adjei and all, are great men who stood and fought for this party."
"If you win your bid, which we pray you do, don't forget the toil of these great leaders whose will, thought and process made this party what it is today," he told Mr Kyerematen.
"Remember that the Ga's have laid down their lives for you," he added.
New Patriotic Party (NPP) flagbearer hopeful, Alan Kwadwo Kyerematen, has said Gas will feature prominently in his government if he is elected president of Ghana in future.
Speaking to the Ga Mantse, King Tackie Teiko Tsuru II today, Monday, 13 March 2023 when he paid a courtesy call on the King, Mr Kyerematen lured the traditional leader to convince his subjects within the NPP to vote for him as the party's next flagbearer.
"If it is God's will that I lead this party and I become President, I'll make sure that Gas feature very prominently in the government that I will run and I do so also for very strategic reasons because Greater Accra is the capital of our country and it is the entry point into our country and first impressions are important and, so, it is our own interest as a government to lift up the Ga state," Mr Kyerematen stated.