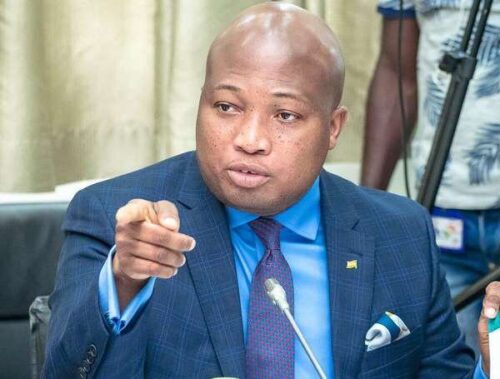 Member of parliament for North Tongu, Samuel Okudzeto Ablakwa, has expressed the need for government not to feel embarrassed to admit reaching out to Nigeria and Cote D'Ivoire for childhood vaccines to address shortages in the country.
According to him, the consignment received into the country yesterday, March 13, 2023, came in from Nigeria as a benevolent gesture which the Ghanaian government has promised to replace when it finally puts its house in order. He revealed that there is absolutely nothing wrong saying "thank you" to a neighbor who exhibits superior public health policies, better prioritization, and who responds positively and swiftly when government comes "begging".
"The Akufo-Addo/Bawumia government should not be embarrassed to admit that it reached out to Nigeria and Côte d'Ivoire for urgent bailout on Ghana's avoidable and indefensible shortage of childhood vaccines."
Samuel Okudzeto Ablakwa
Mr Ablakwa revealed that Ghanaian officials should not be concealing this fact and therefore appearing ungrateful within the comity of nations. He explained that this is an important posture for government to undertake even though he acknowledges that an honest and transparent narrative from government will further expose false claims by President Akufo-Addo during his Message on the State of the Nation last week that childhood vaccine shortage was a global phenomenon.
"Ghana's childhood vaccine crisis could have been prevented if the Akufo-Addo government had not ineptly ignored WHO stock-out warnings since July last year."
Samuel Okudzeto Ablakwa
Furthermore, the North Tongu legislator underscored the need for government to be "profoundly grateful" to Nigeria for its kindness. However, he expressed optimism that the Akufo-Addo/Bawumia administration will find a permanent solution as the Nigeria's donation can only last for 6 weeks.
Ghanaians urged not to accept government's ineptitude
Meanwhile, Mr Ablakwa has urged Ghanaians not to accept "fabrications, ineptitude, mediocrity and leadership failure" from government. He questioned that if there was truly a global shortage of childhood vaccines, how did Nigeria, despite its population, have excess supply to bail out Ghana.
"Why are others not in the same predicament as Ghana? Enough of the disaster!"
Samuel Okudzeto Ablakwa
Elsewhere, the Paediatric Society of Ghana has urged the government to purchase more childhood vaccines because the initial shipment is woefully inadequate.
According to the Ghana Health Service (GHS), the first consignment of childhood vaccines, which included Oral polio, measles-rubella, and BCG vaccines, arrived over the weekend and will last for six weeks. Dr. Patrick Kuma-Aboagye, Director-General of GHS, revealed that by the time the consignment runs out, more would have arrived.
However, President of the Paediatric Society of Ghana, Dr John Adabie Appiah, stated that it will take about six months to vaccinate all children who missed their vaccination.
"We need to vaccinate a larger population and make sure that the population has herd immunity before we can relax and that will take not less than six months to get to that point. So, six weeks is woefully inadequate due to the vaccine shortage. There are over 800 cases of measles, and this is terrible. The situation is going to get worse so more needs to be done. So, we hope that more vaccines will come in to cover the rest of the year."
Dr John Adabie Appiah
It will be recalled that Ghana took delivery of the first consignment of Measles vaccines, BCG vaccines, and Oral Polio Vaccines on Saturday, March 11 to supplement the acute shortage that rocked the country since October 2022.
Following months of shortage, some childhood vaccines arrived in the country and Dr. Patrick Kuma-Aboagye has urged all parents to vaccinate their children.