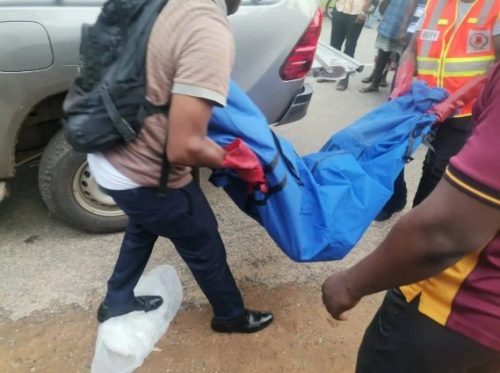 Two (2) women have been killed in separate incidents at Koforidua in the Eastern region.
The incidents occurred almost same time around 5:30am Monday September 4,2023. In the first incident, Gloria Asare a 54-year-old trader was allegedly robbed and killed by unknown assailant(s) on her way to buy cowhide meat to sell at Argatha Market in Koforidua.
Her only son, Isaac Asare said he received the heartbreaking news with shock given that it has been the routine of her mother every Monday morning.
He said no foul marks or bruises were found on her mother at the scene however medical doctors at St. Joseph hospital are to conduct autopsy to establish cause of death.
The second incident occurred at Uncle Sam area near Old Estate junction when a 70-year-old woman identified as Ativor Comfort was crossing the road to attend natures call was crashed and killed by two commercial vehicles.
An eyewitness Diana Korkor and some members of the community lamented excessive speeding on the road and darkness due to nonfunctioning of streetlights.
Source: Kasapafmonline.com/Kojo Ansah