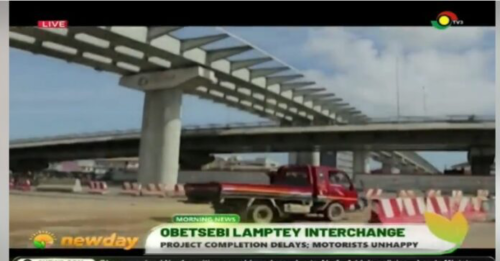 It is a project which is anticipated to help reduce traffic congestion at one of Accra's hotspots, Circle, and its immediate environs.
However, construction works on the Obetsebi Lamptey Interchange have stalled for several months with no hope in sight.
This has left road users and traders close to the site frustrated and inconvenienced each passing day.
Potholes, dust and clogged waters are visible everywhere around the construction site.
A visit to the site showed that the road keeps getting poorer whenever it rains, with no team on site to reshape it for motorists.
The $135 million-project could not meet the 2023 completion timeline due to financial constraints that compelled the contractor to abandon the site.
Resident Engineer for FAS Consult Limited Antwi Owusu Sekyere in April 2023 attributed the suspension of works on the project to government's negotiations with the International Monetary Fund (IMF).
"Once the government finishes negotiations with the IMF, we will come back but it has been suspended. We have skeletal staff there – they do watering and then they reshape the road anytime it goes bad.
"We are hoping to come back in May [2023]. By that time, the government would have finished negotiations with all the other parties," he addressed journalists.
But that hope is yet to be realised, with motorists expressing worry over the inconvenience the stalled project creates.
"The road was better until the construction work started. It becomes messy these days when it rains," a driver complained. "It affects us every day. One can spend hours in traffic and sometimes it takes the police to save the situation.
"We also waste our fuel unnecessarily."
The Roads Minister, Kwasi Amoako-Atta, in April assured that the project is not abandoned but it has been temporarily halted for re-alignment.
Speaking to journalists after inspection tours of some road projects in Accra, he indicated that any such impression that the project has been abandoned is "erroneous".
The Minister stated that the projects have been halted "because we are re-aligning the projects and putting a few issues together".
"Each of them, if you go to the site you will find skeletal staff there. So the projects have not been abandoned," he insisted.
With the current state of the roads, drivers say they are worried about their safety as the area is gradually becoming an avenue for robbery in the night.
"It gets dark in the night so robbers take advantage to harass drivers and pedestrians. I blame the situation on the non-completion of the project," a driver said.
Some traders who spoke on condition of anonymity said their sales have dwindled because of the blockages.
Upon completion of the project, heavy traffic at one of Accra's hotspots, Circle, will be reduced.
This will lessen congestion at the intersection of Ring Road West and Winneba/Graphic Road.
As it stands, the construction site remains empty, with no equipment or personnel available.