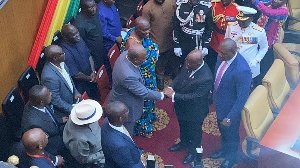 President Nana Addo Dankwa Akufo-Addo presented the 2023 State of the Nation's Address (SoNA) on the floor of Parliament on Wednesday, March 8, 2023.
One of the eye-catching moments at the SoNA was when Akufo-Addo met his predecessor, John Dramani Mahama.
This will be the first time the two men have been seen in public together. GhanaWeb's team at Parliament captured the moment Mahama and Akufo-Addo met at Parliament.
The two men, with broad smiles, could be seen shaking hands as they exchanged pleasantries.
Meanwhile, ex-President Mahama has been taking swipes at President Akufo-Addo and his government over the current economic difficulties in the country in the past few days.
The State of the Nation's Address is in accordance with Article 67 of the 1992 Constitution of Ghana, which states that the President shall deliver a message on the SONA to Parliament at the start of each session and before the dissolution of Parliament.
SONA is a constitutional obligation and yearly tradition where the Commander-in-Chief of the Ghana Armed Forces reports on the status of the country, unveils the government's agenda for the coming year, and proposes to Parliament certain legislative measures.
Article 67 of the 1992 Constitution of Ghana obliges Members of Parliament (MPs), the Speaker of Parliament and the Judiciary to receive the President's SONA.