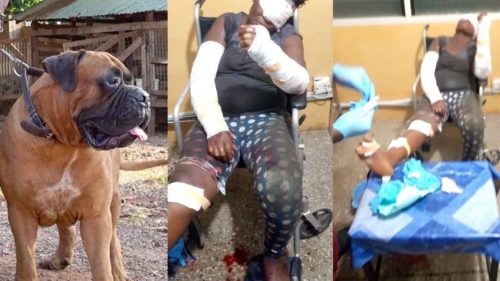 Police in Haatso are allegedly covering up the criminal case of a landlady whose dogs Chewed and killed a 5-month old baby and 4 other people on the streets after she released the dogs.
The businesswoman whose name is withheld for now admitted to "mistakenly" letting the dogs out leading to the attacks on the public including a 5 month old baby.
The incident which took place late last night around 11pm is reportedly being covered up by the Haatso Police due to the alleged influence of the woman.
Eight of the victims of the attack with severe degrees of injuries have been admitted to the Legon Hospital, according to a credible eyewitness Trish Kankam.
The scene of the attack which is the Haatso video club, the road leading to ICGC temple after taking a left curve from the Haatso Absa was said to be splattered with blood as if a car had knocked down a number of people leaving blood and human flesh pieces on the road.
The police who were called were said to have reluctantly invited the businesswoman and almost immediately released her without much.
Neighbours say this is the fourth time such incident with the dogs is taking place and on all occasions police have not taken action leading to a worsening of the situation and the death of a baby victim.