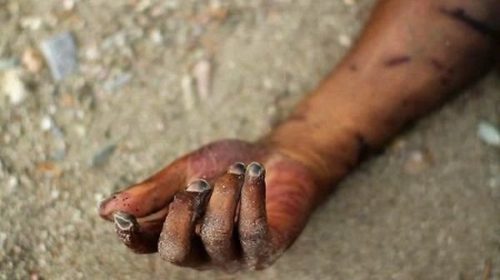 It was gathered that the boy was allegedly killed and the corpse dumped in a soak-away pit by an Imo prison escapee identified as Emeka Egbuaba.
Prison escapee
The many residents of the Iheoma community in Orlu Local Government Area of Imo State are currently in deep mourning.
They have been thrown into mourning following the murder of 15-year-old Chimuanya Sixtus Arudiegwu, whose body was found with some sensitive parts removed last Thursday.
DAILY POST reports that the boy was allegedly killed and the corpse dumped in a soak-away pit by an Imo prison escapee identified as Emeka Egbuaba.
Our correspondent learned that the minor was declared missing within the community at about 7 p.m. on Monday, about 11 days ago, and was caught up with the suspect who killed him and gouged out his heart, kidney, and private parts.
The gory murder caused tension in the Iheoma community as the boy's mother, Mrs Ifeoma Arudiegwu, a widow from the Ihitte Owerri community in Orlu LGA cried for justice over the murder of her son.
Speaking on the ugly development, Chigozie Okonkwo, a community leader, said the deceased was declared missing for more than four days before the suspect's relative, Chibuike, told the deceased guardian that his maternal uncle came home from Lagos, where he resides, and suddenly instructed him never to go close to the soak-away pit behind his house.
Narrating further, the community leader said when Chibuike queried why his maternal uncle asked him not to go close to the backyard, the suspected killer said he slaughtered a goat and deposited its part inside the soak-away pit.
He said while expressing disbelief, the boy simply went and informed the deceased guardian, who later took the residents of Iheoma community to the pit where the boy's remains were discovered without his private parts, heart, and kidney, among others.
Okonkwo further explained that after the discovery, the community informed one of its sons resident in Lagos about the incident and invited the suspect, who was apprehended by men of the Ajangbadi Police Station in Lagos before he was transferred to the anti-kidnapping squad in Imo Police Command.
He said, "We are not safe if he's released from police custody. The entire community, our traditional ruler is worried and that is why members of the community stormed the Owerri police command to seek justice for the deceased "
When contacted, the spokesperson for the police in the state, Henry Okoye, said that he had yet to be briefed on the incident.
He promised to make inquiries and get back to our correspondent, but he had yet to do so as of the time of filing this report.