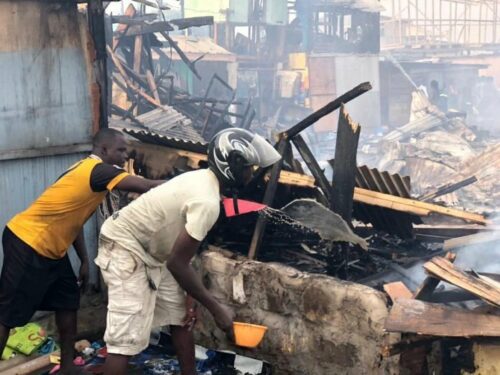 One person has been confirmed dead in a fire that gutted wooden structures at the Arts Centre in Accra.
The fire, which started around 1445 hours also razed hundreds of wooden structures destroying property worth thousands of Ghana Cedis.
When the Ghana News Agency got to the scene, residents were trying to salvage their property from the blazing fire, while others stood helpless.
The Fire Service arrived after 30 minutes and it took them about an hour and half to douse the fire. by
DO1 Kofi Forson, the Deputy Director of Operations, Ministries Fire Command, briefing the media, indicated that they got a distress call at about 1505 hours.
"Now, when we got here the fire was well alive, meaning the fire has reached a state that one pump cannot tackle," he said.
He said so quickly they had to call for more support, and used five pumps.
"One unfortunate situation we are experiencing is that one person has been found dead, burnt beyond recognition. That is why we need the Police to come and then take over at the scene," he said.
The Deputy Director said the place was used for dwelling and commercial purposes, saying there was a display of a number of gas cylinders.
"Some were exploding when we were fighting the fire," he added.
DO1 Forson advised citizens to always avoid illegal connections and misuse of LPG gas and quickly report any fire outbreaks to the Service.