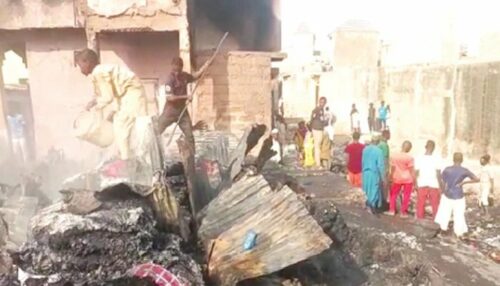 Traders have been counting their losses as an early morning fire erupted at Kurni Market in Kano, leaving six permanent and 74 temporary shops razed.
The Public Relations Officer of the Kano State Fire Service, Saminu Abdullahi, confirmed the incident in a statement on Wednesday.
According to the statement, on arrival, they found that about six
permanent shops and 74 temporary shops have been engulfed by fire, covering an area of about 160 X 100 ft used as market stalls.
He said the agency received an emergency call around 5.23am from one Aliyu Alkasim on the matter.
"Today, Wednesday, March 1, 2023, our control room received an emergency call at about 5.23 am from one Aliyu Alkasim. He reported an outbreak of fire at Kurmi Market Kano Municipal Area," he said.
Abdullahi added that immediately after receiving the report, the service mobilised its men to the scene.
"We turned out our men from various fire stations within the metropolitan and they arrived at the scene of the incident, around 5.27am," he added.
He said the service was able to successfully save many shops within the market area and no injury was recorded while no life was lost.
He said the cause of the incident was still under investigation.
Abdullahi urged members of the public to always switch off all electrical appliances and disconnect from the source when not in use and avoid careless use of naked fire in the market.