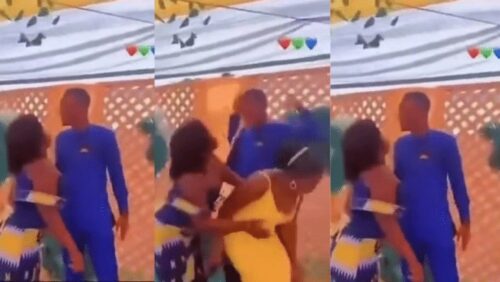 There's a trending video on the various social media platforms which has caused a stir and received massive reactions in the process.
This viral video captures the moment a bridesmaid went overboard during her best friend's wedding.
In the video, the brash bridesmaid ignored the fact that the event was in honour of her best friend and such – She should have comported herself and showed some sort of decorum.
This 'notorious' bridesmaid nearly destroyed the wedding by twerking and seductively dancing with the groom who was also enjoying the moment.
The bride who got angry over how the bridesmaid was dancing with her man stood up from her chair and confronted her man for disgracing himself and her on their big day.
She furiously pushed the 'home wrecker' away and warned her husband to stop dancing with her.
Although, there's no harm in dancing with a married man but the moves shouldn't be enticing and trigger speculations that there's something 'fishy' going on behind the scenes.
Watch the video below to know more…
Below are some of the reactions from social media users who have come across the video…