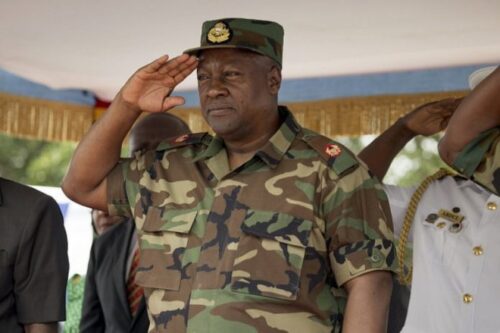 Former President John Dramani Mahama has intimated the debate in Parliament over the State of the Nation Address (SoNA) presented in the chamber today will determine whether Addo Dankwa Akufo-Addo spoke to appeal to the conscience of Ghanaians.
Mr. Mahama said "I am not in the position to judge."
Speaking with TV3's Parliamentary Correspondent, Komla Klutse, after the SoNA Wednesday, March 8, 2023, John Dramani Mahama said what the President did was to fulfill a mandate enshrined in the Constitution, and the good or otherwise of the message he delivered, will stem from the deliberation that will go on in Parliament.
"He has fulfilled his constitutional obligation.
We might not agree on all the points but he has done what he's expected to do. The rest of the debate is left with the Members of Parliament," he said, adding that, "it is not for me to judge, I think in the debate it will all come out," when asked if Akufo-Addo's message appealed to the conscience of Ghanaians.
The former President graced the event in Parliament today with John Agyekum Kufuor, Ghana's second President in the Fourth Republic.
Meanwhile, President Akufo-Addo during the address told Parliament he has not misused the COVID-19 funds as the Auditor General's Report suggests.
He said "nothing dishonourable was done with Covid funds."
"Covid funds were not misused. It is critical that we do not lose the confidence of the people that the crisis we were all in together was being abused," he stated.
He said the funds were expensed judiciously for the purposes of tackling the pandemic.
According to him, the subsidisation of electricity and water tariffs for Ghanaians as well as the 50 per cent tax reduction for those who led the front line at the health sector to fight the pandemic are part of the expenditure the money was used for.
Meanwhile, the Auditor General's Report on the Covid-19 spending says otherwise.
"During our review, we noted that senior management staff and other supporting staff of the Ministry of Information paid themselves a total amount of GH¢151,500.00 as COVID-19 risk allowance for coming to work during the lockdown," part of the report stated.
"The Ministry of Health (MoH) entered a contract signed on 15 December 2021 for the supply of 26 Toyota Hiace Deluxe Ambulances valued at US$4,049,460.12 out of which US$607,419.02 was paid to vide PV No. IPF 22-007 of 2 September 2022 is to be delivered by 15 January 2022," it added.
However, the report said, the ambulances remained undelivered as of 28 November 2022.