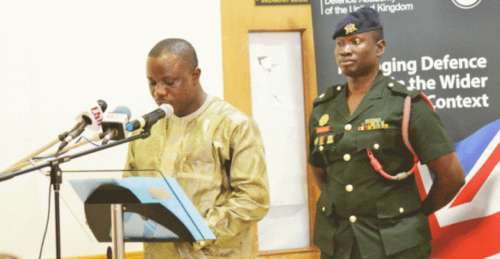 Defence Minister Dominic Nitiwul has charged army chiefs of West African states to support the directive of the Economic Community of West African States (ECOWAS) to restore democracy to Niger and other West African countries that are experiencing military takeover.
He urged the army chiefs to be loyal to their presidents and ECOWAS.
Speaking at the extraordinary meeting ongoing in Accra today Thursday and Friday for army chiefs of some West African states over sending troops to Niger to restore constitutional order he said "your presence alone sounds and gives me a powerful message to the world that you are united in carrying out the directive of the heads of state and governments of ECOWAS and that after today and tomorrow's meeting, you will put in place a plan to ensure that a standby force is activated and that democracy will be restored in Niger.
"If Presidential guards in Guinea and Niger take hostage of their president, nobody in West Africa is safe. That is why I urge you to continue to be loyal to heads of state, I urge you, to continue to be loyal to Ecowas directives and to give effects that the days that coup d'etats enjoy the support of our people are over.
"Yes, in democracy people will agree to disagree, but the vast majority of our people in West Africa are with you, the vast majority of the people of West Africa do not want to be under the difficulties that we are facing today."
The meeting follows a decision by the Authority of Heads of State and Government of the Economic Community of West African States to activate a standby force in the crisis-hit West African nation.
The West African bloc had initially given the military junta led by General Abdourahamane Tchiani a seven-day ultimatum to reinstate Mohamed Bazoum as President.
After the ultimatum elapsed, the Authority decided on Thursday, August 10 in Abuja, Nigeria to explore other options including an intervention by stand-by force.
Ghana's Parliament is reported to have thrown its weight behind a military intervention of a combined force in Niger.
Ivory Coast's leader Alassane Ouattara, after the Abuja meeting, told reporters that his country has completed financial arrangements to contribute a battalion to the force.
"Cote d'Ivoire will provide a battalion and has made all financial arrangements for the operation if it is to last three months," President Ouattara said.
"Provisions will be made at the budgetary level so that our soldiers and officers who will participate in this operation do not lack anything. So Cote d'Ivoire is ready."
The Committee of Chiefs of Defence Staff's meeting in Ghana's military base, Burma Camp, will "finalise plans for the deployment of the Standby Force".