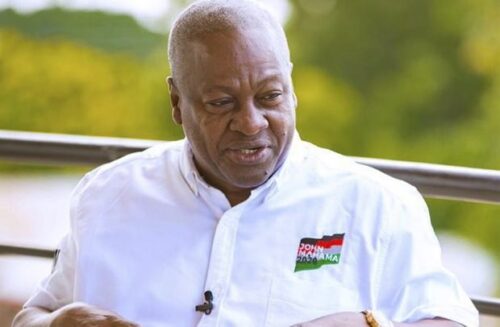 FORMER PRESIDENT John Dramani Mahama is expected to storm Kumasi, the Ashanti regional capital this week, DAILY GUIDE has gathered.
He is visiting the Ashanti Region to campaign for votes in his bid to become the National Democratic Congress (NDC) presidential candidate for the 2024 polls.
A source in John Mahama's campaign team has disclosed that the former president would arrive at the Kumasi Airport on Saturday, March 18, 2023.
According to the source, who demanded anonymity, John Mahama's upcoming tour is the first phase of his tour in the region, and it would last for three days.
He announced that John Mahama would be accompanied by key members of his campaign team and they would visit most of the 47 constituencies in the region.
"Right on arrival at the Kumasi Airport, John Mahama and his campaign team members would drive to the Adansi area to start the first phase of his campaign tour.
"From the Adansi area, he would visit other constituencies and continue with his tour, which would last for three days," the source disclosed.
According to the source, after the three-day tour had elapsed, John Mahama would break and return to Accra. He would return at a later date to continue with the tour.
The source hinted that scores of party supporters and members would troop to the Kumasi Airport on Saturday to give the former president a rousing welcome.
According to him, John Mahama commands a lot of power, respect and support from the NDC members in the Ashanti Region, ahead of the party's internal elections.
The source therefore said he would not be surprised if John Mahama sweep most of the votes from the Ashanti Region, when the NDC goes to the polls this year.
As a reminder, John Mahama faces stiff opposition from ex-Finance Minister, Dr. Kwabena Duffuor, in his bid to lead the NDC as flagbearer.
Dr. Duffuor, who is also determined to lead the NDC as flagbearer, has been canvassing for support for his presidential ambition across the country.