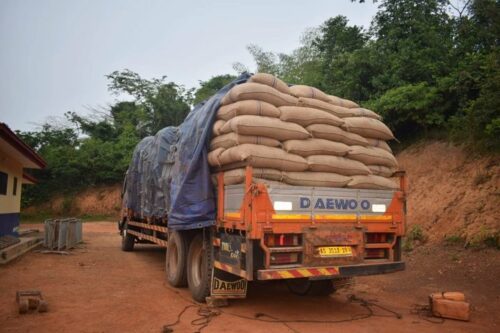 The Police in the Suaman Dadieso District have intercepted 336 bags of cocoa beans supposedly being smuggled to the neighboring Ivory Coast for sale.
Cocoa beans smuggling has been a common norm among some residents in the Suaman Dadieso District over the years.
Due to that, the COCOBOD Chief Executive Officer, Joseph Boahene Aidoo, has sounded several warnings to farmers in the area and educated them in terms of farm inputs supply and the cocoa rehabilitation programme with the sole aim of halting smuggling.
As part of the efforts to bring cocoa smuggling activity to an end, the Suaman Dadieso District Chief Executive, Philip Kwabena Boahene, formed a task force to monitor the activities of those smugglers.
The task force then led the vehicle to the nearest police station and subsequently, the driver was arrested and the vehicle was taken to the Dadieso Police Headquarters for further investigations.
The District Chief Executive for Suaman Dadieso, Philip Kwabena Boahene, speaking to the media, said residents in the area do not involve in cocoa smuggling but residents from neighboring district travel their smuggled goods through the area to dent the name of Suaman.
He further warned that the security and the task force in the Suaman District are poised to arrest whoever tries to smuggle cocoa through the area to Ivory Coast.