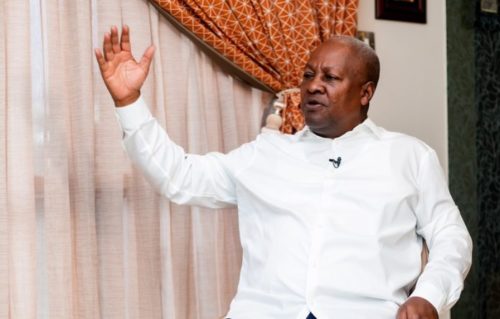 Former president John Dramani Mahama has assured Ghanaians that all appointees who are accused of corruption under his next presidency will be made to face the full rigours of the law.
He said those appointees will be handed to the constitutionally mandated institutions to be dealt with as he will not be the one to clear them.
"We have our work cut out for us when it comes to the Executive," he said on Saturday, September 2 when he addressed the 3rd Annual Lawyers Conference of the NDC in Akosombo in the Eastern Region.
"We must make sure that we restore the trust of our people in the Executive and that people will not come into office and that money is going to found under their bed," he spoke virtually.
"At least, I can guarantee and assure the nation that I am not going to be a clearing agent president and that if people are accused of corruption, we will allow the constitutional bodies that are mandated to deal with those issues to go ahead to do their work and carry out those investigations."
This is seen as a swipe against President Nana Addo Dankwa Akufo-Addo, who has been tagged as a 'clearing agent'.
As recent as July, President Akufo-Addo expressed faith in former Minister of Sanitation and Water Resources Cecilia Abena Dapaah after she resigned due to issues to deal with some stolen money from her home.
In his statement to acknowledge the receipt of Madam Abena Dapaah's resignation on Saturday, July 22, President Akufo-Addo stated that "at the end of the day, your integrity, whilst in office, will be fully established".
Many lashed out at the President for making statements that could prejudice investigations.
The tag 'clearing agent' was given him for frequently absolving his appointees who are accused of corruption and corruption-related offences of wrongdoing.
In 2019, President Akufo-Addo strongly rejected this tag.
While addressing a conference of the Ghana Bar Association (GBA) in Sekondi-Takoradi, he stressed: "It is not my job to clear or convict any person accused of wrongdoing or of engaging in acts of corruption.
"My job is to act on allegations of corruption by referring the issue or issues to the proper investigative agencies for the relevant enquiry and necessary action.
"That is exactly what has been done since I assumed the mantle of leadership on 7th January, 2017.
"If an appointee is cleared of any wrongdoing, the evidence adduced and recommendations made by these agencies, after the investigations are concluded, are what clear the accused persons, not myself. None of these agencies has ever indicated any pressure from the Executive over their investigations."