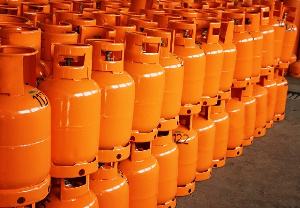 The National Petroleum Authority (NPA) has announced that it will commence the first phase of the government's nationwide Cylinder Recirculation Model (CRM) policy starting in September 2023, beginning with the Greater Accra and Ashanti Regions.
The plan is to gradually extend the programme to the remaining 14 regions of Ghana in subsequent phases.
Curtis Perry Okudzeto, Deputy Chief Executive Officer of NPA, officially announced the implementation date during a briefing with Ghanaian journalists.
He explained that this decision comes after the completion of four LPG bottling plants constructed specifically for the CRM programme.
Mr Okudzeto detailed that GOIL Plc has constructed two LPG Bottling Plants in Tema and Kumasi, capable of filling 23,000 and 7,600 cylinders per day, respectively.
Additionally, Blue Ocean and New Gas Plants have capacities to fill 24,000 and 20,000 cylinders, respectively.
In addition to these bottling plants, Mr Okudzeto mentioned that the state-owned Ghana Cylinder Manufacturing Company (GCMCL), APPEB, and Sigma are also ready to produce cylinders for the CRM programme.
The NPA has completed all the necessary regulatory work to ensure a smooth implementation of the programme beginning today.
Under the current system, LPG consumers visit their retail outlets and fill their cylinders based on their budget.
However, under the CRM policy, pre-filled cylinders of five kilograms and above will be distributed from bottling plants to cylinder exchange points. Consumers will then exchange their empty cylinders for filled ones at these exchange points, based on their desired amount of LPG.
Mr Perry Okudzeto explained, "Consumers will no longer buy LPG cylinders.
"All you need to do is identify an exchange point and get a form to register as a client of that exchange point.
"We advise that consumers take proper care of the cylinders."
Contrary to concerns from LPG Marketing Companies about potential job losses and compensation for investments in Bulk Road Vehicles (BRVs), Mr Okudzeto clarified that BRVs would still be used to transport LPG to certain consumers and bottling plants.
The CRM policy will run concurrently with the existing system until full implementation nationwide.
Regarding the transition timeline, Mr Okudzeto mentioned that discussions are ongoing with stakeholders to determine the exact duration.
Some propose three years, while others suggest five or even 10 years.
He encouraged LPG Marketing Companies to embrace the programme, stating that it could increase their revenue.
New job opportunities will arise, with NPA planning to issue new licenses for the transportation of filled LPG cylinders to exchange points.
In terms of pricing, Mr Okudzeto assured that the NPA would work to prevent an increase in the cost of LPG and is engaging with the Ministry of Finance to consider reducing taxes on LPG.
The primary goal of the CRM is to achieve 50% LPG consumption by 2030, emphasising access to safe, clean, and environmentally friendly fuel.
The NPA believes that the CRM is a safer alternative to the current system.
Source: classfmonline.com