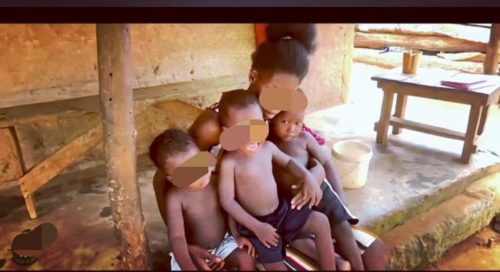 Ernestina was a form one student at Nifa Senior High School in Adukrom-Akuapem in Eastern region when she was impregnated by a her boyfriend who was supporting her education.
Ernestina resisted pressure by her boyfriend to terminate the pregnancy.
She gave birth to all male triplets two years ago.
Sadly, the boyfriend abandoned her and relocated to unknown community in Kumasi in Ashanti region.
The situation truncated the academic pursuit of Ernestina whose vision was to become an army officer.
The teenage mother has dropped out of school and now living with her parents at Bepowase, a farming community in Okere District.
She narrated that " I was in form one at Nifa SHS when I was impregnated by a my boyfriend who helping my education. I went into the relationship because my parents didn't have money to help me so he was helping me little by little . unfortunately after the pregnancy he insisted I abort the pregnancy but I refused. He then denied the pregnancy and runaway to Kumasi".
Life has not been easy for Ernestina and her poor parents as they struggle daily to take care of the triplets children-Kelvin,Alvin and Marvin.
In spite of the challenge, Ernestina wish to return to school or learn a vocation if she gets the needed support.
At ages two, the triplets are supposed to begin early childhood education , however, there is no hope of going to school any time soon.
Eastern region continue to battle the menace of teenage pregnancy.
A total of 1,018 teenage pregnancies were recorded in the Eastern region in 2020.
The region was ranked second with highest number of teenage pregnancies after Ashanti Region during the period.
In 2021 the menace increased by 12.4% according to the Ghana Health Service.
More disturbing is the fact that many of the victims have been betrothed.
According to the 2021 Population and Housing Census 79,733 girls in Ghana aged 12 to 17 have been married or cohabitating with a man.
Out of the number, 25,999 are girls aged 12 to 14 years.
The education of these girls are often truncated just as Ernestina's hope is dashing away at Bepowase in Okere District.