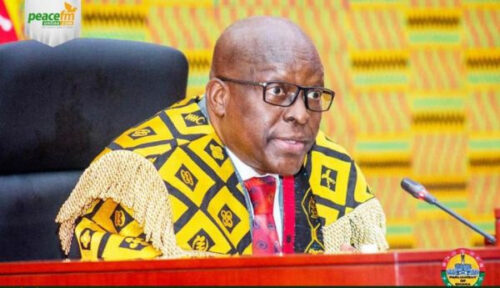 At the tail end of Wednesday's sitting which saw the president, Nana Addo Dankwa Akufo-Addo present the State of the Nation Address, Speaker of Parliament, Alban Sumana Kingsford Bagbin tickled the house with his humorous remarks when he assured women of his unflinching support.
The brief statement in commemoration of International Women's Day was made at the time there seemed to be a deadlock on whether sitting should be adjourned to Thursday as the response from the house on two occasions appeared to have had no clear distinction in favour or against the motion.
Both sides of the house – Majority and Minority – screamed on top of their voices to be heard either voting against or for the motion of adjournment when the question was put out.
Seated comfortably in his chair, the Speaker steadily acknowledged all women for their enormous contribution to humanity.
"Today is International Women's Day. I want to take this opportunity to congratulate all our beautiful ladies here and all the ladies in the world for partnering with men to get us this far. I want to assure all the women, that I am here for you," said Bagbin as the latter part of his statement triggered uncontrollable laughter and cheers from the house.
After this incident, the House agreed to adjourn the sitting to Thursday for a thorough discussion of the president's presentation.
About SONA
The State of the Nations Address is in accordance with Article 67 of the 1992 Constitution of Ghana, which states that the President shall deliver a message on the SONA to Parliament at the start of each session and before the dissolution of Parliament.
SONA is a constitutional obligation and yearly tradition where the Commander-In-Chief of the Ghana Armed Forces reports on the status of the country unveils the government's agenda for the coming year and proposes to Parliament certain legislative measures.
Article 67 of the 1992 Constitution of Ghana obliges Members of Parliament (MPs), the Speaker of Parliament, and the Judiciary to receive the President's SONA.
About International Women's Day
International Women's Day (March 8) is a global day celebrating the social, economic, cultural, and political achievements of women.
The UN's theme for this year's International Women's Day is "DigitALL: Innovation and technology for gender equality". The theme, according to the UN, is aligned with the priority theme for the upcoming 67th Session of the Commission on the Status of Women (CSW-67), "Innovation and technological change, and education in the digital age for achieving gender equality and the empowerment of all women and girls".