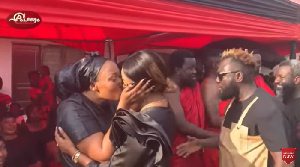 Borga Sylvia, the actress who
kissed Nana Ama McBrown during the funeral of her (Sylvia) twin sister in January 2023, has given a reason for her action, saying it was a harmless kiss.
Sandra Adu, as she is known in real life, told Deloris Frimpong Manso on The Delay Show that it did not come to her as a surprise when she read articles on major news portals about the incident.
According to her, a kiss is a common gesture of greeting a friend or close associate, hence the hullabaloo that greeted her kiss to McBrown was misplaced.
"I gave her a hug. It's like meeting your friend, giving her a hug and a peck; that's what happened," said Borga Sylvia. "In this industry, you hear stuff about you and you know it's untrue so I wasn't surprised."
Commenting on her sister's demise, Borga Sylvia said Cynthia Amankwa Gyamfi fell sick for a while before her unfortunate death. She had arrived in Ghana for their mother's funeral and decided to stay in Ghana for a while after the occasion, only to depart.
"It's been three years since my mother died. My sister was not sick during my mother's funeral," Borga Sylvia said. "She became sick for less than a month and died."
Meanwhile, Borga Sylvia has said she is in a relationship after her estranged husband, DJ Turbo B remarried.
She mentioned that she had two children with the famous DJ and does not regret spending fifteen years with him.
She further mentioned that they are not divorced but since they are not together anymore, he is at liberty to do whatever he wants with his life.