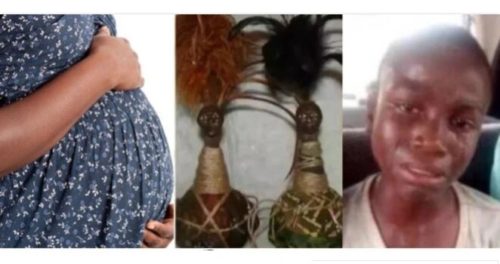 Ekanem, 19, made the awful decision to do it after shamefully getting his mother pregnant. It was truly amazing how far this adolescent kid would go to gratify his sexual delight and wishes.
The Port Harcourt River State Police Command's Public Relations Officer, DSP Celestine Kalu, explained how the child committed his horrific deed, which caused news of Ekanem's atrocious act to spread like wildfire.
Ekanem, a 19-year-old male, allegedly had a strong sexual attraction for women for a very long time, according to the police.
We can all agree that adolescents occasionally have intense sexual desires, but Ekanem took his to a new level after he went to a herbalist to get a love charm labeled "For girls." After getting the charm, he planned to use it on his mother and the matron at school.
One faithful day, he came home from school eager to impress his mother, who was by herself at home, with his charm. He didn't see it as more than a trial, though, as he thought the charm wouldn't work.
In contrast, his father was a security guard who was stationed in another state and would be away from the family home for a number of months.
The 19-year-old boy entered her mother's chamber as instructed by his spiritualist or herbalist, and before he knew it, his mon had fallen for him at first sight, and under the effect of the charm, he had his way with his mother.
After three months, his mother found out she was pregnant; she immediately told her husband, who denied the pregnancy because he was absent during those months and thus could not be the father of the child she was carrying.