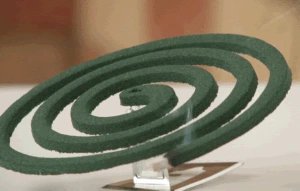 Sleeping in a room with mosquito coils burning is dangerous, Dr. Mrs. Dorothy Hanson, a Medical Doctor at the International Maritime Hospital (IMaH), has cautioned.
She said inhaling mosquito coil smoke and other materials burned to either kill or repel insects could cause lung disease.
She made the remarks while discussing malaria at the weekly "Your Health! Our Collective Responsibility," a Ghana News Agency Tema Regional Office initiative aimed at promoting health-related communication and providing a platform for health information dissemination to influence personal health choices through improved health literacy.
The Ghana News Agency's Tema Regional Office established the public health advocacy platform "Your Health! Our Collective Responsibility" to investigate the elements of four health communication approaches: informing, instructing, persuading, and promoting.
Dr. Mrs. Hanson advised lighting the coil, leaving it in the room for at least 30 minutes, and turning it off before going to bed.
She urged the public to consider sleeping under treated mosquito nets rather than in a room full of coil smoke to avoid contracting other ailments while fighting malaria.
The IMaH Medical Doctor stated that mosquito breeding areas should be cleaned, and that insecticides and repellents should be utilised as some methods to prevent mosquito bites.
She stated that while Ghana was doing well in the fight against malaria, the public must still do their share to help the country achieve a zero-malaria rate.
According to Dr. Mrs. Hanson, the Tema West Municipality has reached the malaria pre-elimination stage, which indicates that less than five percent of Out-Patient Department cases are seen in the municipality.
She also stated that the nationwide prevalence of malaria has fallen from 38 percent in 2012 to 98 percent in 2022.
According to Mr. Francis Ameyibor, Regional Manager of Ghana News Agency Tema, "Your Health! Our Collective Responsibility" is part of a collaborative effort to establish a means of disseminating health information to influence individual health decisions by increasing health literacy.
According to Mr. Ameyibor, the health of parents should be a priority for children, as should the health of employees and employers, as well as the public and health professionals.
The weekly health debate platform, according to Mr. Ameyibor, will also be used as a useful channel of communication for health specialists to educate the public about healthy behaviours and other general health concerns.
Source: GNA