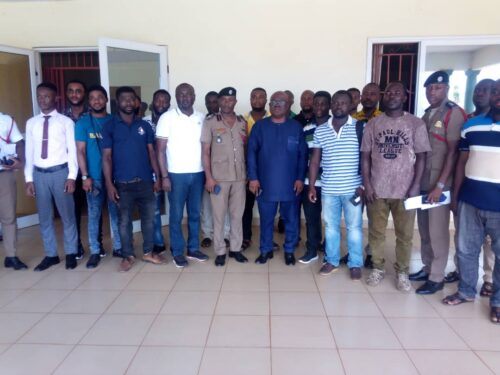 The Environmental Protection Agency (EPA) on Tuesday schooled 60 Liquefied Petroleum Gas (LPG) retailers in the Ahafo region on health and safety, at Goaso.
The workshop, aimed at ending lost of lives and properties worth billions of cedis due to petroleum products accidents, was also used to launch the Ahafo LPG Retailers Association (LRA).
Attended by Managers, attendants and customers of LPG, Journalists, officers of the Ahafo regional directorate of the Ghana National Fire Service (GNFS), the training programme was scheduled to be an annual event.
Participants were taken through topics namely permit conditions, managing LPG risks, control and monitoring systems, properties of LPG and setback distances of tanks among others.
Dr Jackson Adiyiah Nyantakyi, the Ahafo Regional Director of EPA, in a presentation, urged retailers to display emergency response procedures at the stations.
He implored the operators to provide emergency stop button at vantage points within the facility, nose masks for pump attendants, fixed rated electrical fittings, and install a by – pass relief valve on the pumping circuit.
The Regional Director entreated the retailers to undertake periodic pressure testing of tanks to detect any leakages, label emergency assembly points, demarcate the forecourt into public and restricted areas, and install entry and exit markings.
Dr Nyantakyi cautioned that gas plants should not be located close to or within the proximity of high tension cables, source of ignition, and that the safe distance from building boundary of LPG should be 15 meters.
" use effective control systems including water sprinkler, emergency shut – off – valve, temperature gauge, sight glass, pressure gauge, fire arrester, grounding among others" he noted.
The Regional Director admonished the LPG retailers to use monitoring systems namely traffic generation and management, drainage, accident, leakages and waste management to control fire and explosions.
Dr Nyantakyi stressed that though LPG was used as an aerosol propellant and refrigerant, replacing the cutting of trees for charcoal in an effort to reduce damage to the ozone layer, it is highly dangerous when carelessly used.
Mr Michael Kwao, on behalf of the participants, thanked the EPA for organising the training workshop saying that "we will use the skills and knowledge acquired judiciously".
Photo : Dr Nyantakyi (middle) with participants after the workshop.