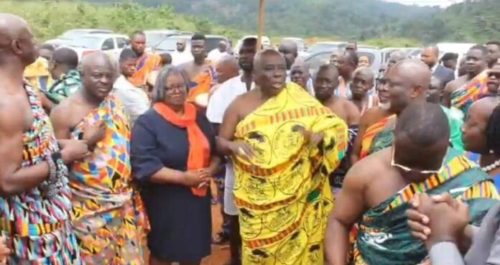 The Okyenhene, Osagyefo Amoatia Ofori Panin II, says it is not acceptable that geography of birth continue to discriminate access to health care, especially among children.
He spoke at his palace after a sod-cutting ceremony at Asikam for a state-of-the-art Pediatric Cancer Centre.
The Pediatric Cancer Centre at Asikam would be a 400-bed capacity facility estimated at $25 million.
Non-governmental organisation Wish4Life Foundation is leading the project.
The Okyenhene noted it was not good enough that children are denied access to health care due to geographical locations and lauded the partnership for the project.
"The mere fact the the child is born in some rural area should not deny him or her access to medical care.
"Unfortunately, that is what is happening in Africa and the rest of the world."
Founder of the Wish4life Foundation Dr Tanya Maria Trippett pointed out only 25 percent of Ghanaian children had access to cancer treatment due to inadequate specialised cancer centres.
She said the project when completed, would bridge the gap, transfer knowledge and technological skills.
"This day is a point in time because we are seeing the realization that we spoke about about.
"Reason why we are doing this is because we care about Africa. We want to give the children a gift of life.
"Today is all about uniting the world. In the United States of America 85 percent of children are cured of cancer. In Ghana, 25 percent children are cured. This would not continue as long as we unite on both sides as one world."