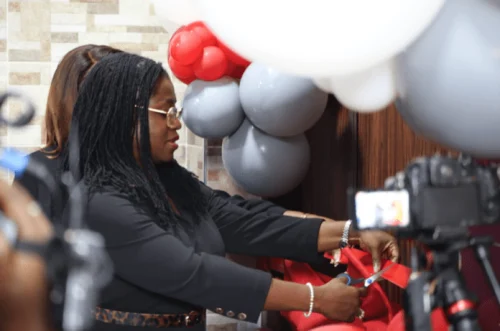 The Bank of Ghana (BoG) has reiterated that the banking sector remains solvent and strong to support economic growth despite the recent challenges faced by the country.
According to the central bank, the banking system is liquid and well positioned to lend to businesses and individuals after government's debt exchange programme.
Speaking at the launch of the "Absa SME loan at 10%" in Accra, the Second Deputy Governor of the BoG, Elsie Addo Awadzi said the central bank will continue to build a resilient banking sector to support government's fiscal policies.
"Our banking sector remains solvent and liquid even after the pandemic, in the face of recent macroeconomic challenges, and in particular the Government debt restructuring efforts", she stressed.
She explained that the banking sector clean-up and recapitalisation exercise before the onset of the pandemic, provided the industry with the necessary capital and liquidity buffers to withstand the pandemic and the recent macroeconomic challenges.
"We expect banks over the next few years to take steps to rebuild strong buffers so that they remain resilient for the long-term", she advised.
She pointed out that while regulating and supervising banks to promote their safety and soundness, the Bank of Ghana expects banks to be more inclusive in their product and service offerings to ensure that all economic actors in Ghana are able to access much-needed finance to grow their businesses and contribute to the growth of our economy.
Touching on the product launch by Absa bank, Mrs. Awadzi stated that the Bank of Ghana expects banks to deploy the funding available to them into more lending to the private sector especially to SMEs, within the framework of robust credit underwriting and risk management.
"I do hope that this great initiative by Absa Bank Ghana is a catalyst that births more strategic partnerships between Mastercard Foundation and Ghana's banking industry to support more SME lending to help build a more inclusive, sustainable, and resilient economy".
She indicated that the Absa product is a lifeline for SMEs and for economic recovery.
"As I understand it, this is an initiative under which Absa Bank Ghana and its strategic partners will build the capacity of 5,000 Ghanaian small and medium-sized enterprises (SMEs) to help make them investor-ready by the year 2025", she added.
She assured that the BoG on its part remains committed to achieving its statutory objectives of ensuring price stability, promoting economic growth and the effective and efficient operation of the banking and credit systems in the country, and promoting financial stability.