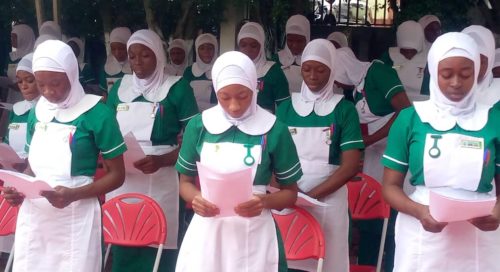 THE AMEN College of Health Sciences, in the Ashanti Region, on Saturday, June 3, held its maiden matriculation to admit eighty (80) fresh students to pursue a three- year programme leading to the award of Diploma in Nursing from the University of Development Studies (UDS).
Sheikh Dr. Amin Mohammed Bonsu, Board Chairman of the college, in his address promised the students to provide for them moral and spiritual upliftment and best education in their career.
He urged them to continue to study hard to raise the performance bar of the college.
The Board Chairman of Amen College of Health Sciences, stated that the College, which was formerly known as Amen Professional College, was established in 2010, with a vision of becoming an institution that serves the rapidly changing health care needs of society. "With this dream, our mission is to train God-fearing, well- educated and competent health professionals to provide quality health services for individuals, families and communities," he noted.
Dr. Amin Bonsu, who is also the Chief Executive Officer (CEO) of Amen Scientific Herbal Hospital, disclosed that the College began by training students in Alternative Medicine under the Traditional Medicine Practitioner's Council (TMPC) of the Ministry of Health, to provide scientific delivery in the traditional and alternative medicine sector for the well-being of humanity and the development of the country.
"In order to provide employment opportunities for our growing youth, we added the training of registered nursing and midwifery programs accredited by the Ghana Tertiary Education Commission (GTEC), the Nursing and Midwifery Council of Ghana (N&MC) and affiliated to the University of Development Studies, Tamale," he explained.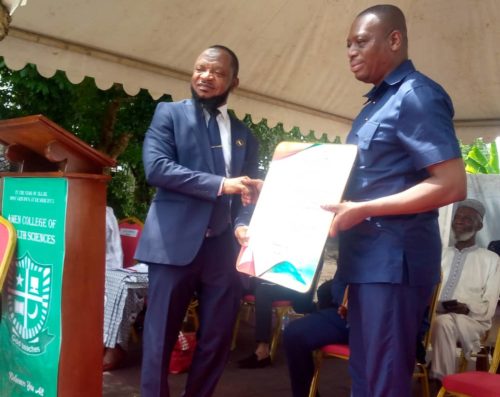 Professor Kingsley Nyarko, the Member of Parliament for Kwadaso Constituency, on whose jurisdiction the College is located, appealed to the mentored institution (UDS) to ensure that quality assurance was not compromised, but are upheld at a certain highest level, meeting the requirements of the Ghana Tertiary Education Commission (GTEC).
He expatiated that some mentee institutions sometimes complain of not getting the best from the mentored institutions. He continued, "the mentored institution should exercise its mandates effectively in terms of quality assurance. They should ensure this institution is well supported in terms of how they can enhance teaching and learning, how they can bring quality into the students in terms of what they teach them."
The Legislator counselled the matriculants to be diligent, discipline and determined in order to achieve their individual aspirations.
Professor Shamsudeen Ziblim, Director of Academic Planning and Quality Assurance of the University of Development Studies, admonished the students to eschew all forms of laziness and lukewarm attitude towards their education and training in order to justify the investment of their parents, guardians and benefactors. "Take your studies as your food and drink and above all remember to always pray to your maker for where you are and for success as well as protection on earth and here after," he counseled.
With Amen College of Health Sciences being a faith- based tertiary institution, Prof. Ziblim encouraged them to imbibe the values espoused by the College in their education and training.
This he stated would help them to be a true nursing professional with character as they serve humanity with compassion, competence, confidence, conscience and commitment.
Madam Gloria Aduse- Poku, Ashanti Regional representative of the Nursing and Midwifery Council- Ghana, in her succinct remarks, advised the students to solve problems they may have with the authorities within the confide of the College but not resorting to the media.
She explained, "there is no problem without solution and going to the media is not the way forward."
By : From David Afum, Kumasi