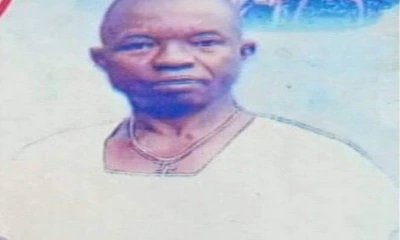 A Celestial church Pastor, Pst Omotayo Valentine Akingbesote, has been accused of killing a 19-year-old girl identified as Loveth, at Igunshin in Ondo West Local Government Area of Ondo State.
The 65-year-old cleric allegedly gave the deceased a drug known as "Largactil" to swallow in order to live a long and prosperous life.
Largactil is a drug used to treat various problems such as severe depression or behavioural disturbance. It can also be used to treat nausea, vomiting, severe pain and unstoppable hiccups.
According to sources, the late Loveth reached out to the pastor to give her anything that could make her prosperous and also live long.
"She went to the pastor's church for the first time to pray for long life and to have a good job, so that she could take care of her siblings because she didn't want to die young like her mother. As she was praying in the church, the pastor's wife came to meet her and said daddy was not at home and that she would inform him she visited the church for consultation.
"Fortunately, when the pastor came back, he sent for her. The house is just a pole away from the church and he prayed for her and asked me to come the following day. The next day, she went to the Church to see the pastor and he gave her the drug called 'Largactil' to use. He said he had already prayed on it and that it would make her prosper and make it in life," the source said.
The source, who spoke under the condition of anonymity, said Loveth collected the drug and used it in the Church but later noticed that she did not have any strength to move again.
"Later, the pastor took her to a bed in the church, laid her on it, removed her underwear and slept with her using the advantage that she was weak. A few hours later, he took her to the road leading to her house where she managed to get home. Since then, she only woke up, ate and slept again for four days. By the time she came out of drowsiness on the fourth day, one white thing had covered her eyes and she could not see. She was on the sick bed till she gave up the ghost."