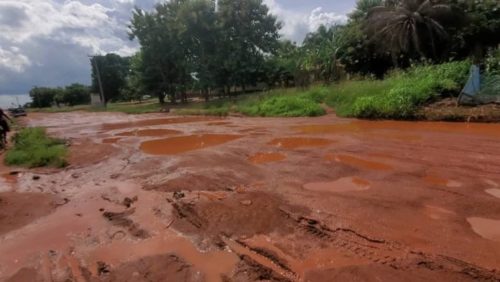 Chiefs and people of Kenyasi No.1, Kenyasi No.2, and Hwidiem in the Ahafo region are threatening to stage a massive demonstration over abandoned road projects in the area.
They claim the contractor, Kofi Job has left the project site after being paid by Newmont Ghana to construct the 8.2-kilometer Kenyasi-Hwidiem road.
Acting President of Ahafo Kenyasi Development Association, Nana Agyemang at a press conference said the situation is affecting socio-economic activities in the area.
He hinted that, residents in the three affected communities will stage a massive protest if nothing is done.
Speaking on behalf of the chiefs, the Saamanhene of Kenyasi No.1, Nana Anim Dankwah said they will join the protest.
He indicated that, as traditional leaders, are at their wits end since appeals to get the contractor back to site has fallen on deaf ears.
He wondered why the contract has left site when in fact they lobbied Newmont Ghana to get funding for the road construction.
Nana Anim Dankwah charged government to heed the call or face their wrath.