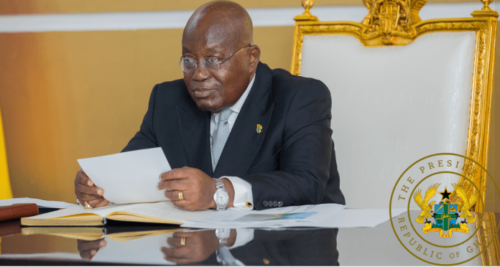 Former Deputy Finance Minister Kweku George Ricketts-Hagan has said Ghana is currently in economic difficulties due to the recklessness of the Akufo-Addo administration.
Although he said, President Nana Addo Dankwa Akufo-Addo disputes this claim, economic facts and figures point to an economy that has been mismanaged.
Speaking on the Ghana Tonight show on TV3 Wednesday, March 8 while reacting to the State of the Nation Address delivered by the President, the Cape Coast South Member of Parliament said "we are where we are as a result of the recklessness and wasteful expenditure of this government, overborrowing which has brought us to where we are today.
"The President obviously disputed that but the numbers are there to show, we wouldn't be where we are today if we have managed this economy well. We wouldn't be where we are today if we had not been reckless, we wouldn't be where we are today if we had not over-borrowed.
"So sometimes you will think the President is probably on a different planet with a different Ghana where things are completely different in that Ghana than the one we live in."
President Akufo-Addo in the address reiterated that Ghana's economy was doing well prior to the outbreak of the Covid-19 pandemic and the Russia-Ukraine war.
This, he said, is a fact that the Managing Director of the International Monetary Fund (IMF) has recognised.
Mr Akufo-Addo indicated that due to political advantage some people are seeking to take, they are unable to accept the fact that the economy was doing well.Mahama
"I have said, and the Managing Director of the IMF has also said, our economy was doing well until covid 19, and Russia Ukraine war," he said.
Earlier, he indicated that when he assumed office on 7th January 2017, he inherited a severely-challenged economy, whose rate of growth, at the time, was the lowest in over two decades.But, he said, by dint of hard work, prudence and creativity, the government has managed to turn things around, creating an economy which, for the years 2017, 2018, and 2019, the years before the onset of COVID-19, was amongst the fastest growing economies not only in Africa, but also in the world, recording an annual Gross Domestic Growth (GDP) growth rate of seven percent (7%).
Speaking at the 66th Independence Day celebration on Monday, March 6, he said "We were the best place to do business in West Africa, and, in 2021, we were described as the most attractive destination for investment in West Africa.
"The next twenty-two (22) months of my mandate will be focused on restoring the economy we had before COVID and the Russian invasion of Ukraine to the period of rapid growth. It is a solemn pledge I am making to you, my fellow Ghanaians, and one which I am determined to fulfill. Before I take my seat, I want to inform you that, in fulfilment of the announcement I made at last year's Founders' Day Celebration, I will, on Tuesday, 14th March 2023, confer national honours on some citizens of our country, who distinguished themselves in the fight against the pandemic of COVID-19. By their actions, they helped protect and preserve our population, and won global acclaim for Mother Ghana."I will, also, on that day, express the nation's gratitude to the legal team of men and women who were charged with ensuring that the maritime boundary dispute with Ghana's immediate, western neighbour, the Republic of Côte d'Ivoire, ended favourably for Ghana, thus ensuring that our western maritime resources, including their potential oil and gas reserves, remained legitimately in our possession.
"I am sure we all saw the three (3) helicopters belonging to the Police Service joining this morning's celebration. It is the first time in our nation's history that the Police Service is employing the use of helicopters to improve its operational efficiency.
"The acquisition of these helicopters is to honour the pledge I made at the 2019 end of year Police WASSA, and I assure the officers, men and women of the Service of Government's continued support in helping them to discharge effectively their mandate."