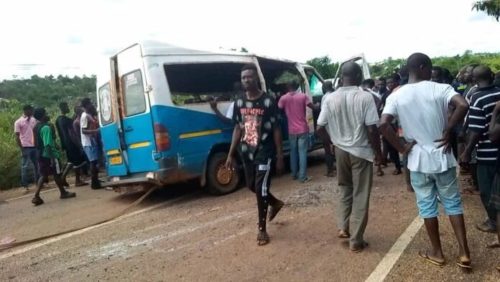 A gory accident on the Sehwi Juaboso-Afere road in the Western North Region has claimed one life and left 23 injured and admitted at the Juaboso Government Hospital.
The 23 injured are receiving treatment at the Hospital.
According to reports, the victims were traveling from Aboaboso to Afere in the Bodi District for a funeral.
Just about a few minutes into the entry of the Afere community, one of the back tyres of the Sprinter bus with the registration number ER 1993-13 burst, veering the Sprinter off the road.
It headed into bushes.
A young lady died on the spot and the rest including the driver were sent to the hospital for treatment.
Eye witness Francis Adama revealed this is not the first time witnessing such an accident but they haven't been serious as Saturday's.
He seized the opportunity to advise the drivers who ply the road to be careful when using it.