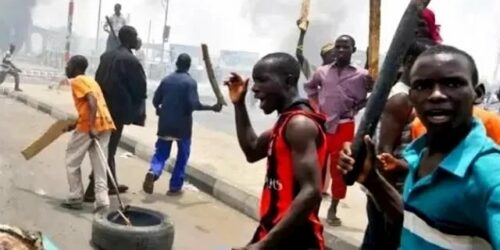 Three people accused of robbing a gold dealer and killing him at Moseaso in the Amenfi West Municipality of the Western Region, have been burnt alive by unidentified neighbours.
They were believed to be part of an eight-member gang that shot and killed Frank Arthur, 51, in the neighbourhood on Monday, April 17, 2023.
DAILY GUIDE gathered that five of their colleagues escaped while being hunted by some youth of the mining community.
According to a source, the youth grabbed three of the robbers and immediately set them on fire, adding, "All of the charred bodies have since been deposited at the Asankragwa Catholic Hospital."
Confirming the occurrence, Richard Arthur, the deceased gold dealer's brother, said he received a phone call informing him that his brother had been shot dead by armed thieves at his mining site in the area.
"I called my brother around 6:30 a.m. that fateful day, and he wasn't answering, so I sent someone to look for him at the mining site," he recounted.
He narrated that, after a few minutes, someone called to confirm that armed bandits had shot his brother and stolen his gold.
Arthur stated that he rushed to the location and confirmed the story was true. He then took his brother, who was lying in a pool of blood, to the hospital, where he was pronounced dead.
He stated that while he was still at the hospital interacting with medical personnel, he received information that three of the robbers had been arrested and set on fire by some youth.
They had all been burnt by the time I got to the community, he added.
"These individuals have been harassing our community's residents. Some of them are ex-offenders. Those on the run are also known faces from neighbouring areas, and we expect the police will arrest them quickly," he said.
From Emmanuel Opoku, Takoradi