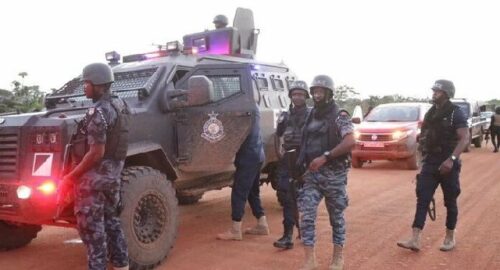 Police in Sefwi Bekwai in the Bibiani Anhwiaso Bekwai Municipality of the Western North Region are reported to have shot two persons and brutalised another.
According to media reports, the two – a male and a female sustained various degrees of injuries and have since been hospitalised at the Green Shield Hospital at Sefwi Bekwai for treatment.
The incident occurred on Monday, April 10, after youth of the area besieged the Bekwai police station to demand the release of 20-year-old Kwabena Gyapong, a Pragyia rider who was allegedly brutalised by the Bekwai police patrol team and later put behind bars.
The reports add that the suspect (Gyapong, the pragyia rider) was riding towards Sefwi Sorano off the Sefwi Dwinase road when the Police ordered him to stop for a search on his tricycle.
However, Kwabena Gyapong is said to have resisted the search which led to exchanges between him and the police personnel.
Kwabena Gyapong in the heat of the disagreement gave one of the police officers a headbutt which triggered his immediate arrest.
However, when news of his arrest broke to the youth, especially the Pragyia riders, they rushed to the Bekwai police station to attack the police to get the injured victim, Kwabena Gyapong released.
The angry youth is believed to have pelted stones at the police which compelled them to fire guns.