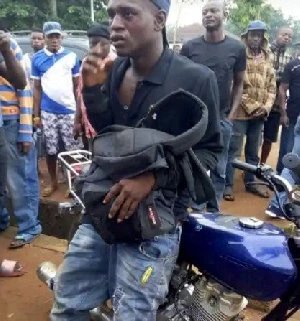 Ridwan, a 20- year- old man from Oqun State, has admitted to the brutal murder of his biological father for the sole purpose of selling his private parts in a ceremony for financial gain. On Sunday, the Ogun State So- Safe Corps was able to locate and catch the youngster within the confines of Oshoku village, which is located in the ljebu North Local Government Area of Ogun State. The Commander, Soji Ganzallo, was quoted in a statement released by So- Safe Corps spokesperson Moruf Yusuf as saying that the officers of the corps heard an unusual activity coming from a structure in Oshoku at around 12 am on Thursday, August 31. They went inside the building after feeling compelled to investigate the noise.
According to Ganzallo, when they arrived, they found a man' s deceased body lying in a pool of his own blood, and the accused assailant had already fled the scene. Ganzallo, upon realizing this horrible finding, shockingly handed Marcus Ayankoya, the zonal commander of the ljebu Zonal Command, the order to apprehend the presumed murderer within 24 hours. Following the commander' s orders, the killer was tracked down to a hidden place in the adjacent woods and caught.
The accused' s father, Ishau, is unexpectedly named as a victim during interrogation.
He freely acknowledged to slitting his father' s throat with a rope and cutting off various organs with a knife for sacrificial purposes. He said that a ritualist he knew only as Baba Kekere had ordered the removal of his larynx and four teeth.
ALSO READ: A KNUST student attempts suicide and is discovered hanging from a building, leaving a threatening note behind
This shocking information was revealed by him during a casual conversation. Curiously, the suspected offender chose to remain silent when asked about the whereabouts of the mysterious ritualist, withholding potentially game- changing details that may expose this nefarious network. After these shocking details emerged, the suspect was handed over to the Nigeria Police Force, more specifically the Ogbere Divisional Headquarters, where he will undergo extensive interrogation ahead of any possible criminal charges. What happened is a sobering reminder of the hazards of superstition and the extent to which people will go for unjustifiable gain, and it is an event that should not be forgotten.