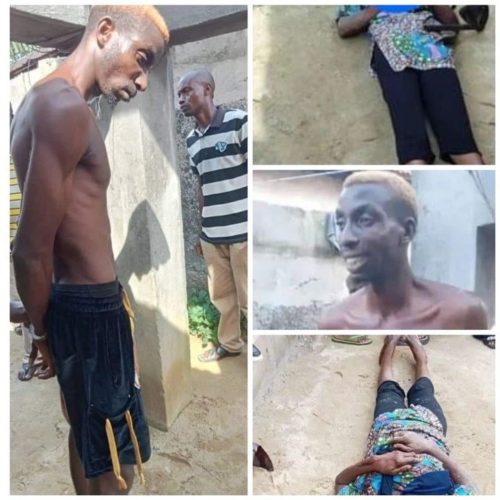 A young man identified as Owate Bode has killed his mother for refusing to give him N20,000 (GHS 50) in Rivers State,Nigeria.
The incident happened in Aleto community, Eleme Local Government Area of the state on Saturday, May 13, 2023.
The man said he approached his mother requesting for N20, 000 to enable him attend a funeral in the community but could not get the desired response from the woman.
He claimed his mother after withdrawing N20,000 from "his account," only gave him N10,000, which he insisted was not enough.
Things however went out of control when The boy now picked up a hoe and hit his mother on the head. The woman's head was ripped open and she fell in a pool of bl00d. She died instantly.
The suspect was thereafter, apprehended by the community youths and handed over to the police, while the corpse has been deposited at a morgue in the area.
During interrogation, Bode who didn't seem remorseful for k!lling his mother, claimed to be mentally unstable. He said he choose to "finish" his mum for refusing to give him his money and insulting him. He further stated that he is tired of living and wants to die.
Spokesperson of the state Police Command, SP Grace Iringe-Koko, who confirmed the incident said that the younger man is in police custody.
See more photos and video below…