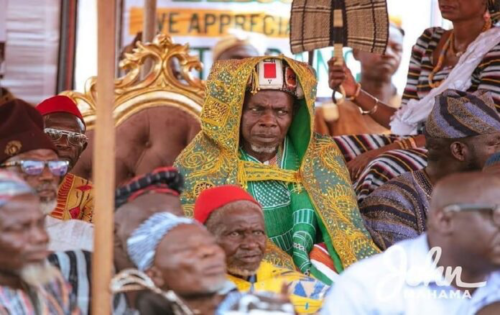 The Overlord of the Gonja Kingdom, Yabognwura BII Kunto Jewu Soale, has made a passionate appeal to the leaders of Ghana's Parliament to be guided on the issue of LGBTQ and never to import any worrying phenomenon into the country's social setup.
According to the king, the issue of LGBTQ pending before the Parliament of Ghana is an abomination and alien to the cultural practices and norms of Ghana.
"Our ancestors will never forgive us should we sit aloof and allow such a decision to be taken by the law makers to affirm LGBTQ," he stressed.
"I am certain that, Ghana's 8th Parliament of the Fourth Republic will unanimously disapprove the LGBTQ+ bill."
The king made these remarks when the Speaker of Parliament paid a courtesy call on him at his private residence in Damongo as part of Parliament's 30th anniversary celebrations.
Responding to the Yagbonwura's call, Speaker Alban Sumana Bagbin stated emphatically his stand on the LGBTQ bill.
"I have said it and will say it again that I will rather perish than to see the LGBTQ+ bill approved under my watch though I don't have a voting right.
"I administer the affairs of the House and I can assure you and the good people of Ghana that the LGBTQ+ bill will never be sanctioned to be in Ghana."
The Promotion of Proper Human Sexual Rights and Ghanaian Family Values Bill, 2021, popularly referred to as the anti-LGBTQI+ bill is currently under review by the Parliamentary Select Committee on Constitutional, Legal, and Parliamentary Affairs.
The bill seeks to provide for human sexual rights and Ghanaian family values while seeking to prohibit the activities of gays, lesbians, bisexuals, transgender, and queers in Ghana.
According to the bill, a person found guilty could face up to 10 years imprisonment if the bill is passed into law.