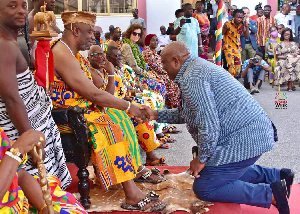 The Greater Accra Regional Minister, Henry Quartey knelt before the Ga Mantse King Tackie Teiko Tsuru II and the Paramount Chiefs of the Ga Traditional Council at a durbar in the Ga Mantse Palace in Accra to beg for pardon on Monday, April 24, 2023.
This comes after the minister who doubles as MP for Ayawaso Central Constituency threatened to sue and demand four million cedis in damages over allegations that he had connived with the government to sell lands at Agbogboloshie.
Henry Quartey was accused by the leader of Arise Ga-Dangme, Nii Odaawulu, of agreeing to sell the Agbogboloshie land for the construction of a hostel for Kayayei, a move which was rubbished by many indigenes.
While speaking about the ban on noisemaking ahead of the Homowo festival celebrations, Henry Quartey also addressed the accusations, expressing his sentiments and displeasure.
Following an apology from the Ga Dangme youth group, the Greater Accra Regional Minister decided to seek pardon from the Ga Mantse for his previous comments in their presence.
Speaking at a durbar in the Ga Mantse Palace in Accra to receive the Director-General for UNESCO – H.E. Audrey Azoulay, on 24th April, 2023, Henry Quartey used the platform to apologize to the Ga Mantse and Council.
"Four days ago, I came here and spoke nicely about how people disregard the ban on noise-making. I made a vocal statement, but it seems I went overboard, so I want to stand in public and apologize to Nii because I erred, and I want his forgiveness. I wouldn't be able to pay the fines, so please forgive me," he said.
He added, "It's not good to do it in the room, so I would do it in public."
The Sempe Mantse, Nii Adote Otintor II, who spoke on behalf of the Ga Traditional Council, said, "We have accepted the statements of the Regional Minister, and we have forgiven him."
The Greater Accra Regional Minister later called out the leader of Arise Ga-Dangme to smoke the peace pipe.
The actions of Henry Quartey have been commended by numerous people.