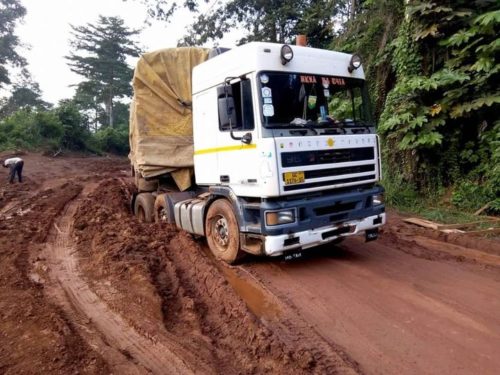 Wassa Prato No.1 and other five adjoining communities are the hub of cocoa, cassava and plantain in the Wassa East district of western region with a population of about 5,000 people but the access road to convey these farm produce has been the bane on the chiefs and residents in the area.
According to the chief of Wassa Prato No.1, Togbe Aloske III, the Member of Parliament for Wassa East constituency Hon. Isaac Adjei Mensah in 2020 lobbied through the ministry of roads of which the Wassa Senchem to Prato No.1 feeder road was given to Memphis Metropolitan Constructions Ltd.
The contractor who was poised for action begun the construction of the road but unfortunately left site after some few months due to the government's failure to pay the agreed part of the contract sum to him. The contractor has since 2020 never returned to site, bringing the Wassa Prato No.1 road in a more accident prone road hence appealing to President Akufo Addo to pay the contractor to be able to return to site.🎤..0:42..
Listowel Aboagye Dacosta of Wassaman Fm spoke with the assembly man for Prato electoral area, Hon. Daniel Kevor who also bemoaned that, because of the deplorable state of the road, he has never had a peaceful ears since 2020. The residents are always at his residence demanding that he should get the contractor back on site meanwhile he does not have the capacity to do so unless the government fulfills its financial obligations to bring the contractor back.
The dejected residents of Wassa Prato No.1 also lamented that, two pregnant women recently met their untimely death when they were being transported to hospital to get delivered.
Again, because they are farmers, most of their perishable farm produce get rotten due to vehicles not able to come to the area to transport their farm yields to the market. School children are not able to go to school during rainy seasons when the road becomes flooded and other numerous challenges they are facing as a result of the pitiable nature of the road.