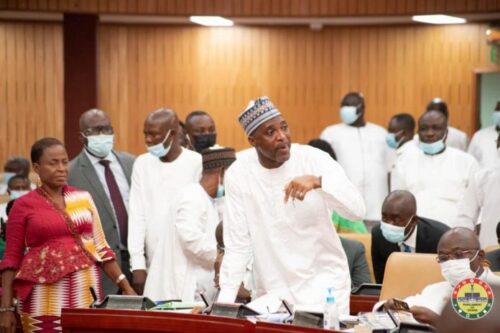 The Member of Parliament for Asawase who is also a member of the Health Committee Muntaka Mubarak has criticised the Health Minister Kwaku Agyeman-Manu for not showing up in Parliament to explain issues surrounding the vaccine shortages in parts of the country despite the invitation sent to him and follow-up calls.
Mr Muntaka said the conduct of the Minister smacked of disrespect.
He said "The Minister of Health being invited to the Committee of Parliament, he himself being a Member of Parliament having in mind the provisions of the 1992 Constitution and the ranking member following up with even a call a week before the meeting, and the matter in question is the time that elsewhere Parliament would invite the minister within 24-hours and he has to appear because of its urgency.
"Now, you have a minister of health who for me, for lack of a better word, I will say disrespectfully refused to attend to the invitation of the committee.
"It tells you how he is running the Ministry, it is just unfortunate that we have a government where a lot of its actors are behaving as though they are doing the citizens a favour by occupying those offices, instead of them attending to the urgent needs of their ministry.
"Everyone around this table is very much aware of the importance of the expanded programme on immunization, every other thing can wait but not the expanded programme on immunization because the six or so killer diseases, ones you don't get immunized in a certain period you endanger all of us because this is something the children will miss and you cannot easily correct."
Mr Agyeman-Manu was expected to appear in the House today Tuesday, February 28 to explain measures that have been put in place to address the situation.
The Clerk of Parliament's Health Committee in a letter that invited the Health Minister said "I have the direction of the Chairman of the Committee on Health to invite you to an emergency meeting to brief the Committee on the cause of vaccine shortage in Ghana and the measures being put in place to address the situation, on Tuesday, 28th February 2023 at 9:00 a.m. at the Committee Room 1&2, New Administration Block, Parliament House.