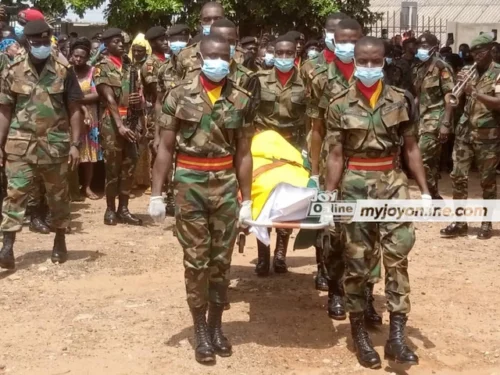 It was such an emotion-filled atmosphere at the 37 Military Hospital Morgue on Thursday, March 9, 2023, as the mortal remain of the slain young soldier, Imoro Sherriff was laid to rest.
The 21-year-old promising military man was allegedly stabbed to death in Taifa a suburb of Ashaiman on Saturday, March 4, 2023, and his death has sparked reactions across the country, with condolences pouring in from various quarters to the bereaved family.
His body was prepared for burial at the 37 Military Hospital in Accra where the National Chief Imam, Sheik Osman Nuhu Sharubutu prayed for his soul after some Islamic rituals.
Before his tragic death, Sheriff was a trumpeter with the Ghana Armed Forces Band stationed at Sunyani in the Bono Region.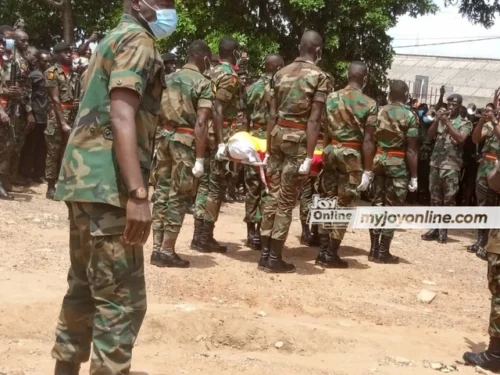 He was allegedly attacked and killed by unknown assailants while in Accra for a military course and had been visiting his parents in Ashaiman every Friday.
It is reported that Friday, March 4, the day he met his untimely death would have been the third time he was going home.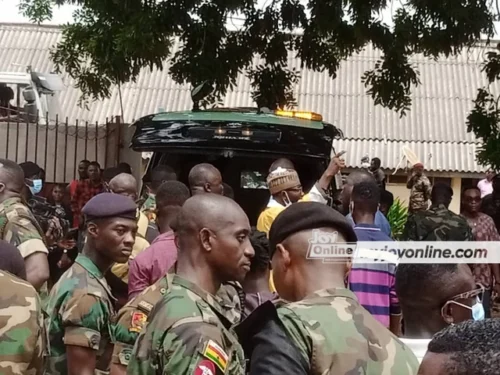 Following his death, soldiers conducted on a swoop on the Ashaiman community in question, arrested and brutalized residents in the name of searching for the murderers.
No fewer than 184 residents were taken into custody by the Ghana Armed Forces which said the brutal operation was sanctioned by its High Command.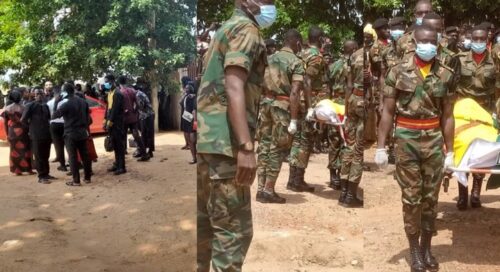 Meanwhile, on Thursday, March 9, 2023, 150 out of the 184 arrested residents were released while the remaining 34 remains in the custody of the military police.