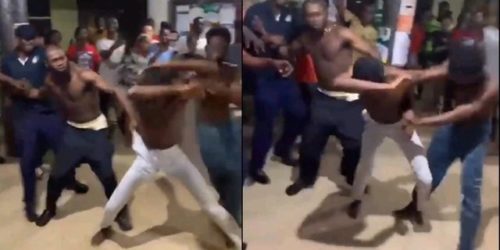 An alleged thief caught by students of Kwame Nkrumah University of Science and Technology (KNUST) became helpless as he received beatings from an overwhelming mob of angry students.
A video of the incident shared on Twitter by a user, @Gbe_Kor shows the moment the suspected criminal is seen attempting to flee for his life, but a charged crowd of students engulfed him amid numerous of hands landing slaps on his face from all over.
Some students are heard in the background of the footage screaming at the alleged thief while he is dragged and beaten violently.
Some uniformed security guards were captured in the footage rushing to the aid of the suspect, but by the time he was saved from possibly being killed, he had already suffered severe beatings.
It is unclear what exactly he was allegedly caught stealing and how he managed to enter the building in the first place. What also remains unclear is whether the suspect was handed over to the police or what became of him eventually