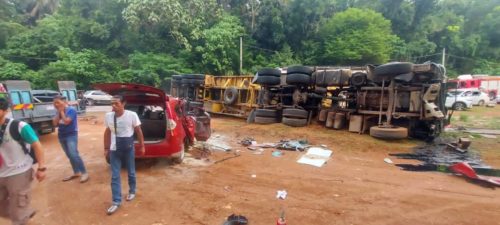 A family of six were killed in an accident involving a lorry and four cars at Jalan Segamat-Kuantan near Taman Yayasan, here.
Segamat OCPD Supt Ahmad Zamry Marinsah said that the victims are a husband and wife aged 46 and 43, their three daughters aged 17, 13, and 10, and their five-year-old son who were travelling in a Perodua Alza.
"There was another victim inside the car; a 15-year-old boy who is currently still being treated after suffering a serious injury," he said.
Supt Ahmad Zamry added that the incident occurred at 6.37pm on Friday (Sept 1) and is believed to have happened when an SUV heading in the direction of Kuantan slowed down after seeing road repair work in front.
"The lorry carrying sand behind it failed to brake in time, and the driver lost control of his vehicle before hitting the back of the vehicle," he said in a statement on Saturday (Sept 2).
Supt Ahmad Zamry said the impact caused the lorry to enter the opposite lane and collide with a car that was heading towards Kuantan.
"The incident also caused an accident for two other vehicles, the lorry driver also suffered serious injuries, while the occupants of the SUV and two other vehicles were unharmed," he said.
Supt Ahmad Zamry also urged those with information on the incident to contact the Segamat Traffic Investigation and Enforcement Division at 07-9325811.
The case is being investigated under Section 41 (1) of the Road Transport Act 1987.
Meanwhile, Bandar Baru Segamat Fire and Rescue Department operation commander Mazuki Ismail said two fire trucks and an emergency medical rescue services vehicle with 15 personnel were rushed to the scene after they received a distress call at 6.33pm.