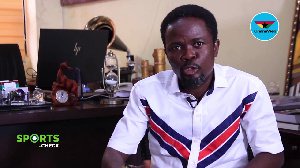 Sports journalist Dan Kwaku Yeboah has disclosed that he has suffered abuse on several social media platforms as a result of his comments regarding ex-president John Dramani Mahama's pledge to abolish ex-gratia when he assumes office again.
During an interactive session on Ekwanso Dwoodwoo on Peace FM, March 7, 2023, when the ex-gratia issue was being discussed, one of the team members, Anim Addo, said, "So if it is about issues, I shouldn't express my opinions but when is time for elections, I should express my views?"
Dan Kwaku Yeboah replied to him saying: "you! don't keep quiet; they've washed me like galamsey pit. You better keep quiet because when they come after you, you will see how it is.
"…on the same platform, we talk about Nana Addo, we talked about the health minister and we've talked about many people but how come, the ex-gratia has become an issue? We didn't even mean evil; we were just saying that Togbe Afede has done it, so he should just follow.
"For things like this, they are bound to happen because they add up to our democracy…those circulating my old pictures and attacking me, if they reason enough, they should rather be thanking God for how far he has brought me than insulting me.
"Because if you compare those times and now, it means that God has done enough for me. Everybody has beginnings so they should rather thank God than bring my old pictures to make a mockery of me," he added.
It may be recalled that the head of sports at the Despite Media Group urged the former president to follow the lead of Togbe Afede XIV, the Paramount Chief and Agbogbomefia of Asogli, who returned his ex-gratia to the government last year.
He said on the March 2, 2023 edition of the same show: "You (Mahama) said it in 2015, the time you were in government, but you couldn't scrap it, now that you're on the bench (in opposition) you want to scrap what? Bring the ones that you've taken to set an example of what you're saying.
"If the former president brings his ex-gratia, Kwame I will campaign for him, I will clap for him. Let him say he's doing what Togbe Afede did, so he's also doing the same…Kwame this is a big campaign message.
"I wanted him to set an example, actions speak louder than words….Togbe Afede is a human being, and Mahama is also a human being, so why not return it as Togbe Afede did?" he said.
John Mahama has promised to scrap the retirement benefit given to top government officials under Article 71 officeholders, known as ex-gratia when he becomes president again.
According to him, his government will start the constitutional processes to scrap ex-gratia in the first year of his administration.
The former president, who made these remarks at the launch of his campaign to become the flagbearer of the NDC on Thursday, March 2, 2023, added that his government would also work to scrap ex-gratia benefits given to appointees under the other arms of government.
"The payment of ex-gratia to members of the executive under Article 71 will be scrapped. And the necessary constitutional steps to abolish that payment will start in earnest in 2025.
"We will also begin the process of persuading the other arms of government other than the executive to accept the removal of this ex-gratia payment," he said.