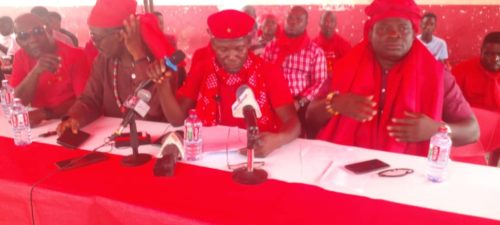 Residents of Kobinaandohkrom, the nearby community greatly impacted by the September 9, quarry explosion at STA ADDSAMS in the Shama District of the Western Region are crying out over neglect.
Residents are aggrieved that no special attention has been given to them by authorities since the explosion looking at the impact on their community.
One of the community leaders, Mr Joseph Mensah, criticised the nine-member committee set up by the Western Regional Minister during a press conference, saying most of their homes were destroyed and others are suffering health complications as a result of the explosion yet no plans had been made for them.
They are therefore calling on the government to listen to their plight and heed their demands.
He said, "We are all Ghanaians, and it's fair for us to have leaders to negotiate the best for us, but these leaders that have been chosen to mediate on our behalf are only focusing on their stomach and not what we deserve and want."
"They don't care if we die or even the whole community perishes, all they think about is their self-interest meanwhile members of the community are suffering over the explosion."
"About three different groups have come to the community to take up details concerning our properties that were destroyed, but we are yet to get any feedback. Some of us are sick, suffering from different complications, some of the people who got injured and continue to go to the hospital, who is taking care of their medical bills? People still don't have a place to sleep because of the destruction, who is compensating who for this unfortunate incident?"
"They don't respect us and have left us to perish."
A member of the committee, Emmanuel Owu Ewie, Assemblymember for Anto Aboso said the committee has the right to voice their grievances but the committee are still working to bring a solution to the people.
Meanwhile, today, October 9, marks exactly one month since the quarry site explosion that claimed six lives, and injured many and destroyed properties worth millions of Ghana Cedis.
The incident that happened at about 10:40 PM sent shock waves around the neighbouring towns in Shama and even the Sekondi-Takoradi Metropolis.
However, after the explosion, a 9-member Committee was set up to investigate the incident.
The committee was made up of the Western Regional Coordinating Council, Minerals Commission, Ghana National Fire Service, Ghana Police Service, Ghana Health Service, NADMO, EPA, Works Engineer in Shama, and the Assembly Member of the affected area.
The committee was given three weeks to provide a full report on the explosion but three weeks have passed and no report has been made public.