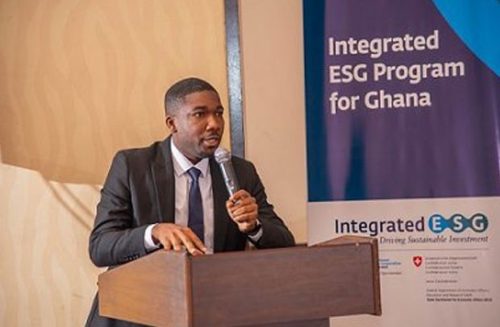 Stanbic Bank Ghana has reported improvements in its banking operations since incorporating the Bank of Ghana sustainable banking principles across its operations.
The Environmental, Social and Governance (ESG) and Sustainability Manager for Stanbic Bank, Joseph Amo Adjei shared this at the launch of the Integrated Environmental, Social, and Governance (IESG) program by the International Finance Corporation (IFC), in Accra.
Speaking on how critical the consideration and practice of ESG has been for the bank, Mr. Amo Adjei said, "We invited the IFC to conduct diagnostics on the bank's Environmental and Social Management System (ESMS) in 2019 shortly after the launch of the Sustainable Banking Principles.
Steady work has been done to close the identified gaps and to put the bank towards a path to attain full compliance with the BoG Sustainable Banking Principles."
He said the IFC diagnostics report came in handy in 2020 during the heights of the COVID-19 pandemic as the Bank had to make a case to the KFW development bank to support the bank's SME clients under the KFW grant program.
"The grant fund of Euro 6m was used to support our SME clients with the payment of salaries and other working capital needs with the largest beneficiary being clients in the educational sector as they were hardest hit by the pandemic," he noted.
Mr. Amo Adjei further noted that for Environmental, Social and Governance (ESG) to be fully integrated into normal business practice, the Board and Senior Management commitment is required saying, "Integrating ESG and Sustainable Banking principles require commitment from top management and boards of businesses as leadership often view ESG and Sustainability embedment from a cost perspective."
There is a medium to long term benefit of integrating ESG and Sustainability as sustainable businesses are now the businesses of the future.
In Stanbic, the Board and Senior management are showing this commitment with the recent approval of a business case for the integration of ESG and Sustainability in the bank.
The principles, launched in 2019, are designed to help financial institutions respond to risks, increase transparency, and promote sustainability.