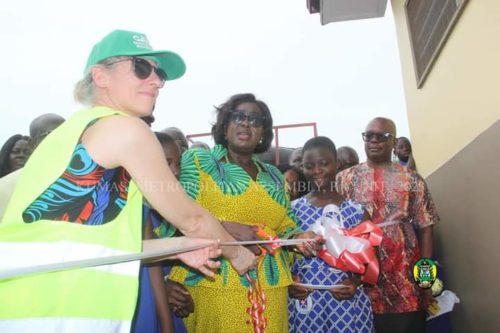 The Minister for Sanitation and Water Resources Hon. Dr.Freda Prempeh who doubles as the Member of Parliament for Tano North Constitutency has commissioned 38 completed Water And Sanitation Hygiene – WASH ( Toilets) facilities within the Greater Kumasi Metropolitan Area.
The Ministry Of Sanitation and Water Resources with support from the World Bank implementing a proper hygiene for all by providing households and institutions with 'own toilet' facilities at subsidize price.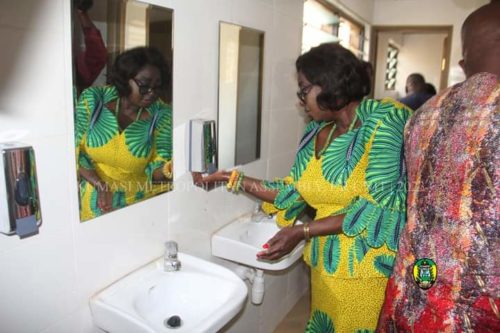 The project in Accra is Greater Accra Metropolitan Area Sanitation and Water and that of Kumasi is the Greater Kumasi Metropolitan Area.
That is Ejisu,Asokwah, Oforikrom Asokore Mampong Municipals. The rest are Kwadaso, Suame, Tafo Municipals and Kumasi Metropolitan Assembly.
The 38 institutional toilets WASH facilities was built free of charge to these schools for the benefits of the school children and teachers.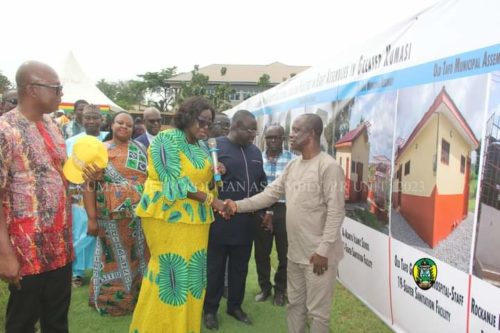 1- Asokore Mampong Municipal Assembly benefited from five WASH facilities namely Nasriya Islamic Basic, New Aboabo MA Primary,Asokore Mampong MA JHS (A & B),Sepem Timpom JHS (JHS) and Sepem Timpom KG block.
2- Ejisu Municipal Assembly also had 6 WASH facilities with the beneficiary schools being Ejisu Model,Bonwire SHS, Ejisu Islamic Primary/JHS, Ejisu Model, Fumesua MA Primary & JHS and
Kwaso Health Centre.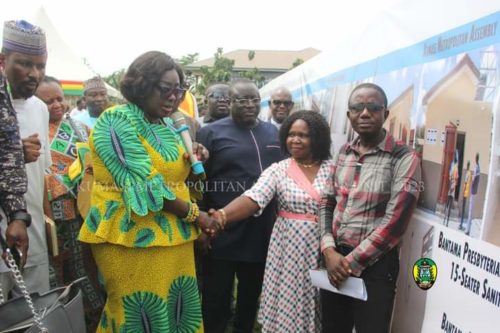 3-Kwadaso Municipal Assembly can also boast of 10 WASH facilities across the municipality from Afia Kobe SHS 1,Afia Kobe SHS 2, Afia Kobe SHS 3, Nyankyerenease Methodist Pri. 'B',Atwima Amanfrom SDA JH and Apatrapa R/C JHS. The rest are Apatrapa R/C Primary 'A'/Kg,Kwadaso-Asuoyeboah SDA Pri. 'A', Kwadaso-Asuoyeboah SDA Pri. 'B' and Municipal Education Office.
4- KMA benefited from two WASH facilities which is Bantama Presbyterian Cluster of Schools (2).
5- Oforikrom Municipal Assembly also had Appiadu RC Primary
And Appiadu RC JHS.
6- Old Tafo Municipal Assembly have also secured seven WASH facilities for their schools and public instruction Al-Azariya Islamic, Old Tafo Government Hospital-Staff,Old Tafo Government Hospital-OPD, Rockanje Presby Experimental Primary, Old Tafo Municipal Health Directorate, Old Tafo Methodist School 'B' and Old Tafo Municipal Education Directorate.
7-The Suame Municipal Assembly also had six WASH facilities to their credit for schools such as Suame Methodist Primary & Kg,Suame Methodist JHS,Nurul Islamic Basic School
Adadiem MA JHS, St. John's of the Cross R/C Primary and JHS, Andrews Adventist Prep. & JHS.
The Hon. Sanitation Minister, reiterated that as part of the components of the GKMA Project a total of 30,000 household toilets, extension of piped water supply to 5,000 households, rehabilitation, and expansion of the Asafo Sewerage System to connect more houses, and capacity development of sanitation and water supply institutions are currently on-going.
In the welcome address of the representative of the city mayor Hon. Samuel Pyne Mr. Prosper Kotoka the Director of Waste Management welcomed the gathering and applauded the government for initiating and completing the WASH facilities in the GKMA. He said the reliefs and the enhancement that the facilities would have on education cannot be over emphasized.
He charged the school heads and students to take good care of it as they do to the ones in their homes.
On behalf of KMA we say thank you Ministry of Sanitation and Water Resources and the World Bank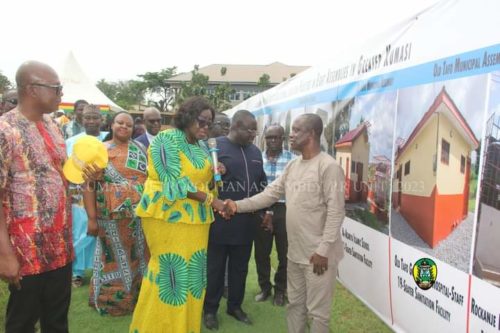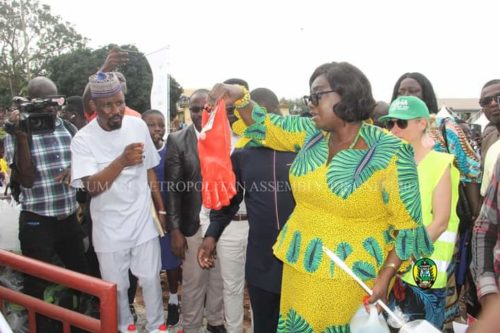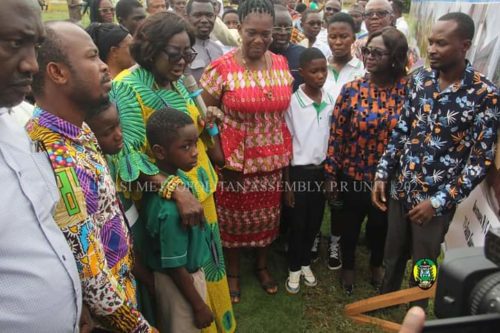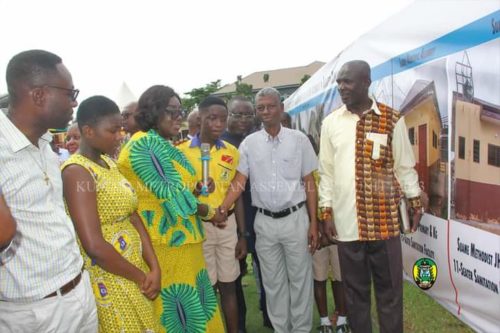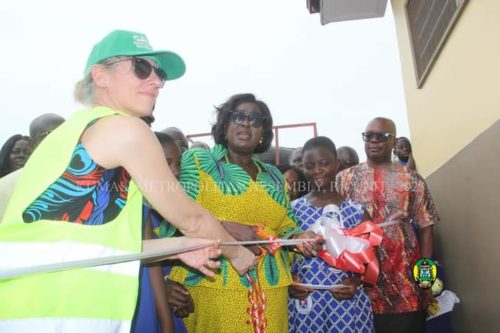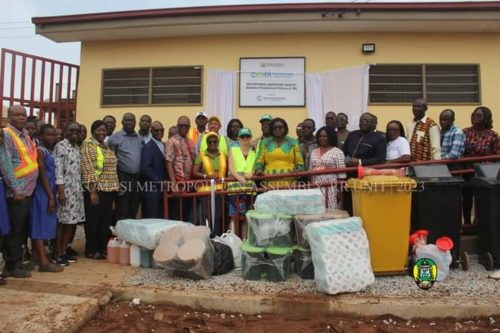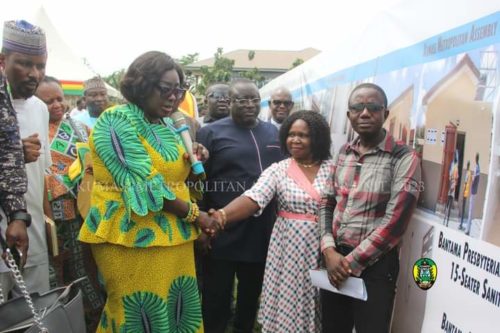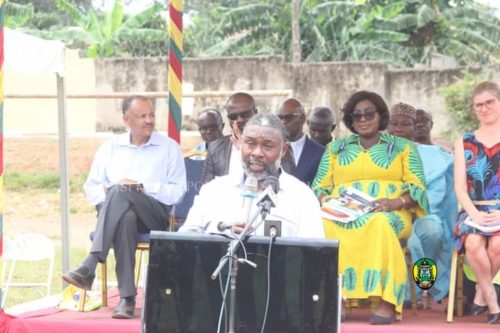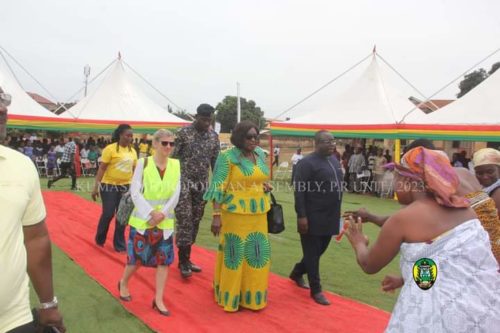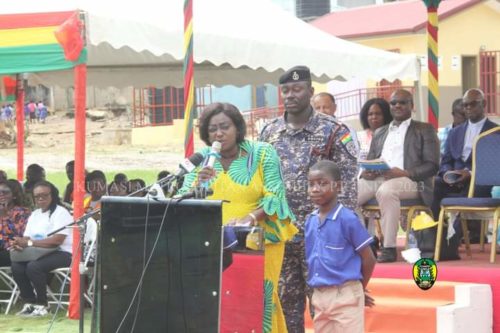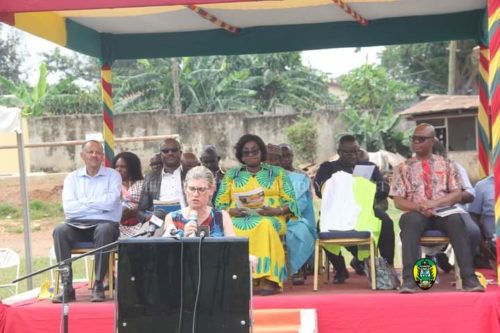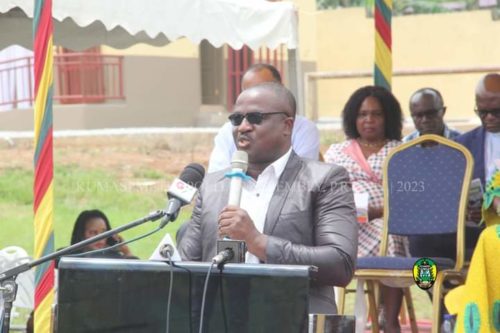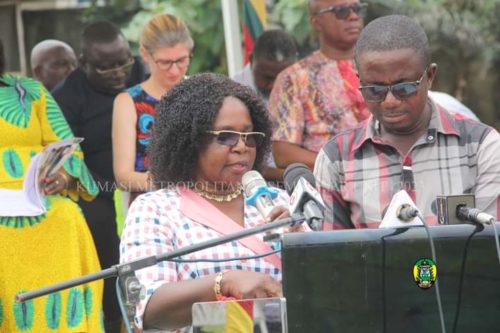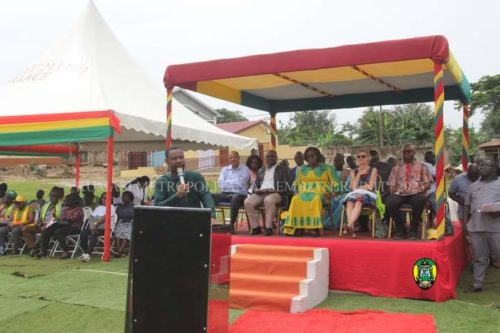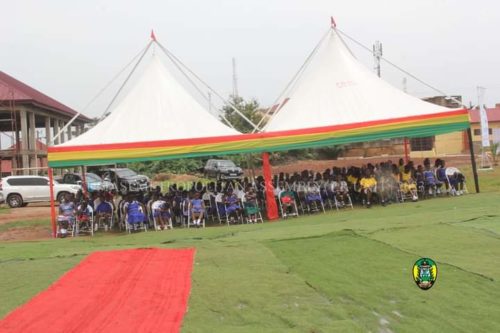 Source: KMA Public Relations Unit