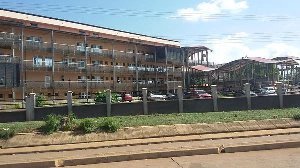 The Tamale Teaching Hospital has been ranked the worst-performing hospital in the Northern Region.
The only tertiary health facility in the Northern Region was ranked 19th out of the 19 hospitals in the region.
The Tamale Teaching Hospital scored 'E' or unsatisfactory in 11 of 22 performance indicators in the 2022 Best Performing Hospitals Ranking by the Northern Regional Health Directorate.
The 22 performance indicators include the performance of the 19 hospitals in institutional maternal mortality, stillbirth, institutional mortality, and deliveries, among others.
The teaching hospital scored 'E' in stillbirth rate, institutional maternal mortality ratio, institutional mortality, and percentage of anemic at 36 weeks, among others.
The Bimbilla Municipal Hospital was ranked the best-performing hospital in the region.
The Northern Regional Health Directorate released the rankings on Wednesday, March 22 at its 2022 Annual Performance Review meeting held in Tamale.
The Medical Superintendent of the Bimbilla Municipal Hospital, Dr. Barhama Adam told GhanaWeb the ranking did not come as a surprise.
He said despite the peculiarity of the year under review, the staff of the hospital sacrificed to ensure uninterrupted quality health care at the hospital.
"There were times in the entire Municipality, there will be no supply of electricity, sometimes for more than 24 hours but we had to ensure that that particular interruption of electricity supply did not affect the hospital. We had to ensure that our standby generator always had to be put on so that essential services could be given to clients uninterrupted" he explained.
He said the hospital will do everything possible to maintain the standard it has set for itself.
Dr Barhama added that even though the hospital has only two medical doctors serving the nearly 200,000 population, they were poised to continue delivering top-notch services to the public.
The Bimbilla Municipal and the Yendi Municipal Hospitals are the major health facilities serving the eastern corridor part of the Northern Region.
The Tamale Technical University Hospital and Gushegu Municipal Hospital came second and third respectively on the ranking.
Source:GhanaWeb